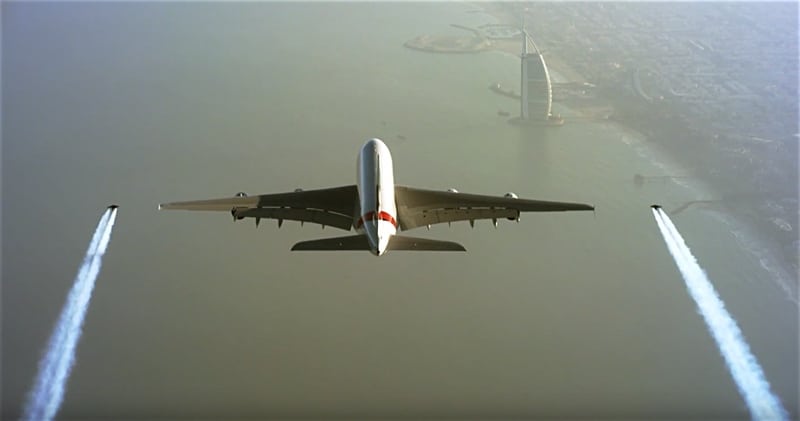 Jetpack daredevils Yves Rossy and Vince Reffet recently partnered with Emirates Airlines for a stunt involving an Airbus A380, the world's largest passenger plane, over Dubai's Palm Jumeirah and skyline with Burj Khalifa in the background. It's an airspace Rossy and Reffet visited earlier in 2015. Rossy has also jetpacked over the Grand Canyon.
Said Emirates COO Adel Al Redha of the stunt: "This display between man and machine celebrates the magic and beauty of flight, a feat which just over a hundred years ago would have seemed an impossible dream. It also showcases how far human vision and ambition has, and can continue to push aviation's boundaries."
Emirates related the technical aspects of the flight in a release:
During the formation flight, the Emirates A380 flew at a weight of just 350 tonnes (the maximum weight of an A380 is 575 tonnes). As the largest passenger aircraft in the world, wake turbulence was the most significant risk to Jetman during the flight.
To mitigate the risk, the duo's formation positions were carefully selected to avoid the areas of wake turbulence and jet efflux from the Emirates A380. During the planning stages, Emirates ensured the Jetman duo had proper visual reference points of the A380 so that both Jetmen could safely join and hold their choreographed positions. The Jetman team's reference points were confirmed with flight simulation along with using visual orientations using actual A380 aircraft at the Emirates Engineering Centre. These helped to confirm that the proposed formations would work seamlessly from the first flight.
A practice flight was done on 12 October 2015 to ensure that the formation positions worked, and the final formation flight and filming were conducted on 13 October 2015.
Watch the footage, which should thrill plane fanatics:
And here's a behind-the-scenes video: