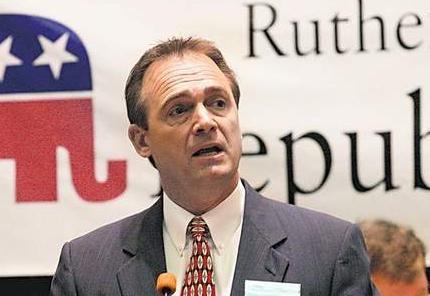 Six months after the U.S. Supreme Court's ruling in Obergefell, backlash is intensifying in Tennessee.
In fact, several Tennessee counties have passed anti-gay marriage resolutions that an anti-LGBT hate group claims will be the first step toward a national constitutional convention on the issue.
Meanwhile, GOP state Rep. Rick Womick (above) wants Tennessee to eliminate marriage licenses altogether to avoid issuing them to same-sex couples in defiance of the high court.
According to The Johnson City Press, four counties have approved anti-gay marriage resolutions circulated by the Family Action Council of Tennessee (FACT), while several others are considering them. The resolutions call on the Tennessee General Assembly to refuse to accept the high court's "lawless" opinion as "a binding precedent for any parties other than those involved" in the case.
The newspaper reports that Unicoi County commissioners considered the anti-gay marriage resolutions on Monday:
In addition to Johnson County, Thomas said similar resolutions have already been adopted in Sullivan, Greene and McMinn counties. Hawkins County commissioners are expected to their give second and final reading, then approval, of the resolution in January and FACT is currently working toward the passage the resolution in Carter County.
Under questioning from Unicoi County Commissioner Glenn White about the need for the general assemblies of 38 of the 50 states to join in a call for a constitutional convention to overcome the federal supremacy of the Supreme Court ruling, [FACT representative David] Crutchfield said the resolution is the first step toward that end.
[FACT's Charlene] Thomas said two bills will be introduced in the next session of the state General Assembly that, if passed, would likewise move Tennessee toward an override of the gay marriage ruling and organized opposition to the ruling is also gaining momentum in other states.
On Tuesday, Rep. Womick told Murfreesboro's Daily News Journal the state should stop issuing marriage licenses altogether:
"The state Constitution says that marriage is between one man and one woman, and my personal belief is that God says that marriage is between one man and one woman," said Womick, a Republican who resides in Rutherford County's Rockvale community southwest of Murfreesboro. "He created Adam and Eve. God didn't create Adam and Winston." …
"That would take the state out of the marriage business altogether," said Womick, who last summer suggested Republican Gov. Bill Haslam be impeached for not taking a stand in opposition to the high-court ruling and urged the state's 95 county clerks in a letter not to issue marriage licenses to gay couples. "I think that's probably the best approach given the legal climate." …
"If the Supreme Court will not allow us as a sovereign state to issue marriage licenses as we have decided, then we won't issue them at all," Womick said. "If (the deciding five members of the Supreme Court) want to play this game, we are not going to abide by what they said.
The speaker of the Tennessee house, Beth Harwell, has even appointed a task force to examine how the state can respond to Obergefell. Bill Campbell, chairman of the local Democratic Party, called the task force a waste of time and taxpayer money:
"I think it's incredible during a time when so many pause to celebrate peace and joy, Rep. Womick creates turmoil and pain," said Campbell, who is also a spiritual director and retired United Methodist campus minister at Middle Tennessee State University in Murfreesboro. "Due to his bigotry, intolerance and hard heart, all will have to suffer.
"There are real issues that he could focus on like Insure Tennessee, funding for public schools including MTSU and roads and bridges that need to be repaired and improved."