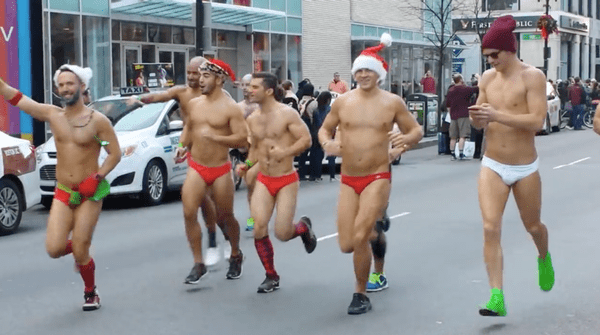 Boston's famous Santa Speedo Run returned this year, albeit to somewhat warmer temperatures, and made good on its annual promise to serve up scantly clad men running through the city's streets, braving shrinkage in the name of charity and a good time.
The one-mile race is a fundraiser for Play Ball Foundation, which supports school sports programs geared toward Boston Public School middle-schoolers.
The unseasonable warm weather — temperatures hit 61 degrees — was inviting to the carefree athletes who donated a minimum of $400 to race while showing off their holiday spirits.
Check out photos of this year's Boston Santa Speedo Run along with video, below:
https://instagram.com/p/_QZ4pbPB2b/
https://instagram.com/p/_M4vESvB2l/
https://instagram.com/p/_NS44Mj6Lv/?tagged=santaspeedorun2015
https://instagram.com/p/_NX4phDapp/?tagged=santaspeedorun2015
https://instagram.com/p/_NUI1ilCVf/?tagged=santaspeedorun2015
https://instagram.com/p/_M4iwnBOX2/?tagged=santaspeedorun2015
https://instagram.com/p/_NS8JFD6L3/?tagged=santaspeedorun2015
https://instagram.com/p/_NSz53D6Lf/?tagged=santaspeedorun2015
https://instagram.com/p/_NSe19D6Ku/?tagged=santaspeedorun2015
Watch video of the run, below: