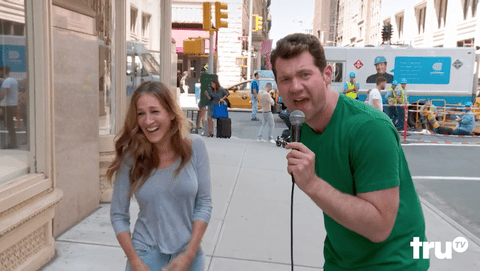 Sarah Jessica Parker was Billy Eichner's latest guest on his TruTV show Billy on the Street and the two discussed her movie Sex and the City 2 and also played a game of "Santa's Reindeer or Sex App?"
Eichner told Parker that he had been wanting to discuss the backlash that Sex and the City 2 received from critics and audiences for some time.
Eichner in particular went after those who didn't think it was "believable" that Carrie Bradshaw and her gal pals would go to the Middle East:
"I have one guy, a friend of mine, who's like into SciFi, who's like 'Oh it's not believable. They go to the Middle East.' I said, 'You can't believe they go to the Middle East but you believe in f–king Chewbacca? You f–king turd! They can't go to the Middle East–you'll believe anything that happens on some planet George Lucas made up but you can't believe that Kim Cattrall would film for a few weeks in Morocco?!' I'm serious! Do you know what I mean?"
Parker adds, "It did make an enormous amount of cash." To which Eichner says, "We know you're very rich! Which doesn't explain why you're out there begging people to buy your shoes!"
The pair then play a game where Parker has to guess whether the name Billy says is either one of Santa's reindeer or a sex app.
Watch the video below: