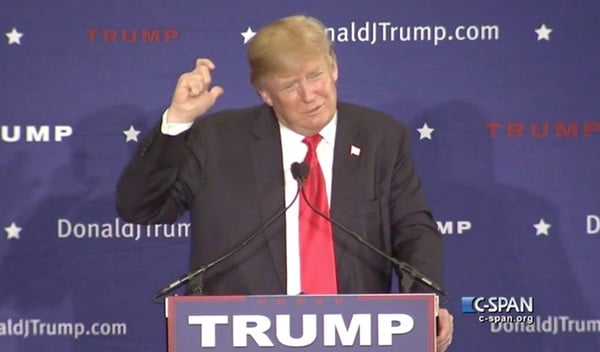 Suggesting President Obama is a hypocrite for flying around in Air Force One, Donald Trump complained yesterday about being forced to use a pump hair spray rather than an aerosol, blaming Obama for wanting to save the ozone layer.
Said Trump:
"You can't use hairspray because hairspray is going to affect the ozone. Let me figure it out. I'm in my apartment, in New York City, and I want to put a little spray so that I can…but I hear where they don't want me to use hairspray, they want me to use the pump. Because the other one, which I really like better than going bing bing bing, and then it comes out in big globs and it's stuck indoor hair and you say oh I gotta take a shower again cause my hair's all screwed up."
Watch:
CLIP: Donald Trump on hair spray and pollution. Full video here: https://t.co/GggvlUk1ZDhttps://t.co/IQUBeUGIq5

— CSPAN (@cspan) December 30, 2015
The NYT notes:
Aerosol sprays were actually phased out in the United States in the 1990s, years before Mr. Obama was president, and the ban resulted from the Montreal Protocol in 1987, signed by President George H. W. Bush, which sought to curtail the damage aerosol products did to the disappearing ozone layer. Since then, the hairspray industry has been able to find substitutes that produce the same misty effect of CFCs and aerosol.