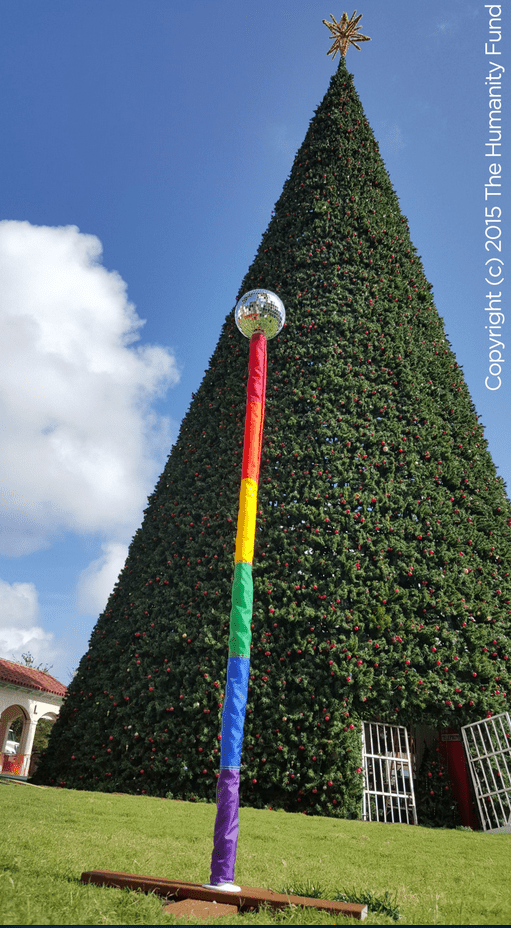 A Florida group wants to display gay Pride-themed "Festivus" poles on the grounds of several state Capitols to celebrate the U.S. Supreme Court's ruling in favor of same-sex marriage.
On Monday, the Humanity Fund applied to display a Festivus pole at the Arkansas Capitol in Little Rock. The 6-foot-tall pole (above) would be adorned with an 8-inch disco ball and wrapped in the colors of the LGBT rainbow.
The Humanity Fund displayed a Festivus pole — marking the parody Dec. 23 holiday conceived by author D O'Keefe and made famous by an episode of "Seinfeld" — at the Florida Capitol in 2013, but without the gay Pride theme, according to a report from KARK-TV:
The director of the Humanity Fund said he feels states have to allow all religious displays on government property or none. He said placing Christian displays at capitol buildings "opened the door" for his Festivus pole.
After succeeding in getting permission to place his Festivus pole at the Florida Capitol, his story went viral, appearing on television programs like "The Colbert Report," "The Daily Show," and media outlets like Fox News.
After the Supreme Court ruled in favor of gay marriage, Stevens said he decided to change the design of the Festivus pole to include rainbow colors.
He said he hopes to raise awareness and funds for organizations that help young members of the LGBT community who are bullied across the country.
There's no word on whether Arkansas officials will approve the application, but one anti-LGBT state legislator is already speaking out against it.
"He has the right to ask," Republican Rep. Bart Hester told KARK. "The legislature approved the 10 Commandments as a historical document. Look at our state and national Capitol. They are covered in scripture and the 10 Commandments. I fail to see a gay pole as having any historical significance in the founding of our state or nation."
The Humanity Fund also wants to display gay Pride-themed Festivus poles at capitol buildings in California, Texas, Washington, D.C., and Connecticut. The group even sent an email to anti-gay GOP presidential candidate Mike Huckabee seeking his backing for the pole in Little Rock, according to ArkansasOnline.com:
"We'd love for your hometown support, perhaps you'd be kind enough to put in a good word for us," the group wrote.
Watch Humanity Fund Executive Director Chaz Stevens talk about the gay Pride Festivus pole project below.