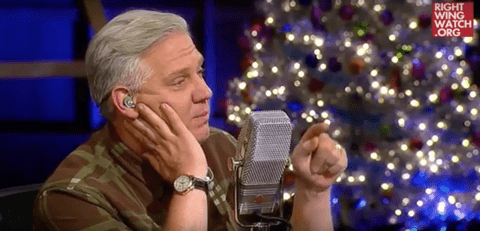 On his radio program on Tuesday, Glenn Beck said that he believes Donald Trump is running for the Republican nomination for president to throw the 2016 race to democratic frontrunner Hillary Clinton.
As Right Wing Watch notes, Beck discussed the possibility that Trump is a plant after taking Trump to task for his mocking of a New York Times reporter with a disability.
Said Beck,
"He doesn't believe the things that he's saying…He has said many times how much he despises conservatives and the GOP and everything else. What are the odds that he is a spoiler? What are the odds that he got into this because he's friend with the Clintons and he'll get massive payback? Can you imagine if Hillary Clinton gets in because he ran third party, do you know the favor they're going to owe him?…It makes no sense otherwise. It's more logical to believe that than he's all of the sudden changed and he had no pivot point in his life to change like this."
Beck has previously said that he believes Trump's bid is part of a conspiracy headed by "big business" to destroy the Tea Party.
Watch Beck's latest comments below:
https://www.youtube.com/watch?time_continue=1&v=RXf_tFBQkwo