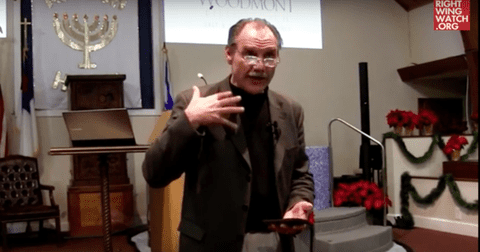 Tennessee state representative Mark Pody claims that God personally told him to fight the Supreme Court's ruling on gay marriage by introducing legislation that would attempt to make it null and void in Tennessee.
Pody took God's advice and wrote and introduced such a bill and is now on the stump.
The campaign to 'nullify' SCOTUS' gay marriage ruling has become popular among Tennessee's anti-gay set as of late. Over the weekend, we reported on right-wing-nut Gary Cass' campaign to try and put the genie back in the gay marriage bottle.
Last week, Pody spoke at a Church event to rally support for his bill. Pody also shared how God called on him to be a watchman in the fight against gay marriage.
"Ladies and gentlemen," Pody said, "I believe I'm supposed to be speaking to the unsaved, to the people that are performing same-sex marriages, to the people involved in same-sex marriage, it is wicked, it is wrong and I am doing the best I can to warn them."
"I believe that the bill that we're are trying to put out right now is to say, 'No, it will not happen here!'" he continued. "I believe that Nashville, Tennessee, is the time and the place that we put down the stake and we say, 'No more!'"
Now is the time for Christians to rise up against this "unconstitutional tyranny," Pody declared, because "the Supreme Court is not the Supreme Being" and God is working miracles in generating support for his legislation.
Watch video of Pody making his remarks, below:
https://www.youtube.com/watch?v=eP68op1IRPo