More than seven years before Matthew Shepard's death, 27-year-old gay Houston banker Paul Broussard (above left) was brutally murdered by 10 young men who jumped him on the streets of the city's Montrose neighborhood.
Broussard's slaying was among the first anti-gay hate crimes to receive widespread media attention in the US, and it continued to make headlines in recent years thanks to the controversy over whether Jon Buice (above right), the knife-man who inflicted the fatal wounds, should be paroled.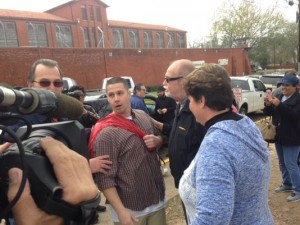 On Wednesday, the now 41-year-old Buice walked out of prison after being granted parole in November, bringing to a close a battle that has long divided LGBT advocates in Texas. On one side were those like pioneering gay activist Ray Hill, who initially helped police apprehend Broussard's killers but later lobbied for Buice's release, saying he no longer believes it was a hate crime. On the other were those who supported Broussard's mother, Nancy Rodriguez, in insisting that Buice serve at least 27 years — the length of her son's life.
"Let's go, let's go," Buice said Wednesday as he walked out of a prison in Huntsville, Texas, where he was greeted by Hill and his father (right).
"Jon is a good man," Hill told KHOU-TV. "He's not a boy anymore, he's a good man. And it's going to be a challenge to spring back, but I have every confidence that he's going to do that."
Buice penned an apology to the LGBT community and earned four college degrees, including his master's, while in prison. But Noel Freeman, former president of the Houston GLBT Political Caucus, called Buice's release "a travesty of justice."
"If you look at the number of people who have been convicted of murder in Texas, the number who are released after serving a similar portion of their sentence is pretty low," Freeman said.
Buice, the last of Broussard's killers who was still behind bars for the crime, will be closely supervised, wearing a GPS monitoring device and prohibited from traveling to Houston.
"I'm happy to have him home," Buice's father, James, told The Houston Chronicle. "He's our prodigal son. He's got a place he's staying — I built a house for him. He's got a job in computers waiting for him. … Jon never was a bad boy, not a bad teen. He made a bad mistake when he was 17, but he's 41 years old today. He's going to be a good man."
Andy Kahan, a victims' advocate for the city of Houston who has long fought Buice's parole, told the Chronicle that "the decision to release a cold-blooded murderer …is sending chills down everyone's spine wondering if their case will be the next one to be paroled."
Watch KHOU's report below.