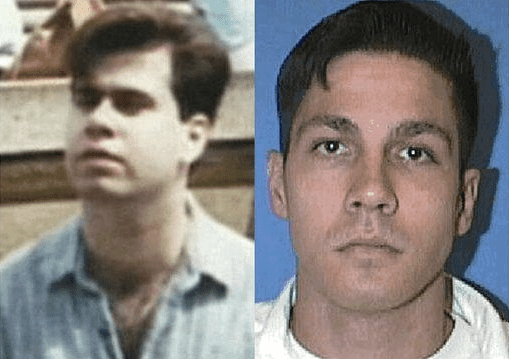 A man convicted in one of the nation's most notorious gay-bashing murders is set to be released on parole.
Jon Buice (above, right), then 17, was among 10 young men from the Houston suburbs who fatally attacked 27-year-old banker Paul Broussard (above, left) on the streets of the city's Montrose gayborhood on July 4, 1991.
Buice, the knife-man who inflicted the fatal wound, received the stiffest sentence, 45 years, and all of Broussard's other killers have already been released.
On Friday, a committee voted 2-0 to grant Buice parole. From the Associated Press:
Broussard's mother, Nancy Rodriguez, appeared before the parole board multiple times urging that Buice be kept in prison.
"Before there was Matthew Shepard and James Byrd Jr., there was Paul Broussard," said Andy Kahan, a victims rights advocate."If Buice had not stabbed Paul, Paul would have been injured, but he would have been alive. He's the one responsible for his death and we are of the opinion you should do at least half your term before eligible for parole."…
Buice's release date is not known.
Buice was initially granted parole in 2011, but the board reversed its decision amid protests from LGBT groups and state lawmakers.
Buice's bid for parole has the support of longtime Houston gay activist Ray Hill, an ex-convict himself who was instrumental in helping police track down the suspects following Broussard's murder.
Hill says Buice, who once wrote a letter of apology that was published in Houston's gay newspaper, is rehabilitated. Hill also says he no longer believes Broussard's murder was a hate crime.
Maverick Welsh, president of the Houston GLBT Political Caucus, told The Houston Chronicle the group voted earlier this year not to take a position on Buice's parole request. The Caucus opposed parole for Buice in 2011.
Equality Texas, which also opposed Buice's parole in 2011, wrote Monday on Facebook:
"We can respect the decision of the parole board. Buice now has an opportunity to demonstrate that he truly is a changed man."