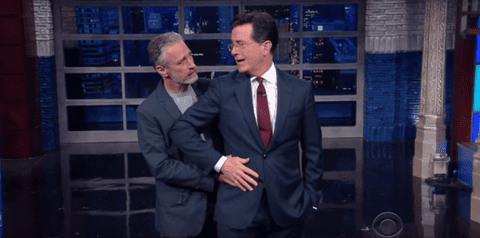 On Thursday night's The Late Show, host Stephen Colbert got a surprise guest in the form of former Comedy Central colleague Jon Stewart.
Stewart showed up to share an important message about the Zadroga Act, which covers medical expenses for 9/11 first responders. Congress has yet to reauthorize the Zadroga act and Stewart has been making the rounds on the late night shows to try shame members of congress who continue to do nothing.
But before Stewart could tell everyone why the Zadroga act is so crucial and how any congressperson who doesn't support it is less than human, Colbert had to interrupt him to remind him to "Trump up" his rhetoric because "The media won't pay attention to anything at all unless you are Donald Trump."
Colbert then brought out his Trump wig (which he keeps around for times he wants to say anything important) and put it on Stewart and along with some make-up (or rather, Cheeto dust) to make Stewart more closely resemble the Republican front-runner.
And finally, Stewart brings the noise and brings the Trump.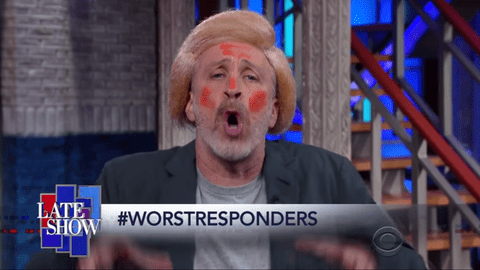 Watch Jon Stewart become Trump below: