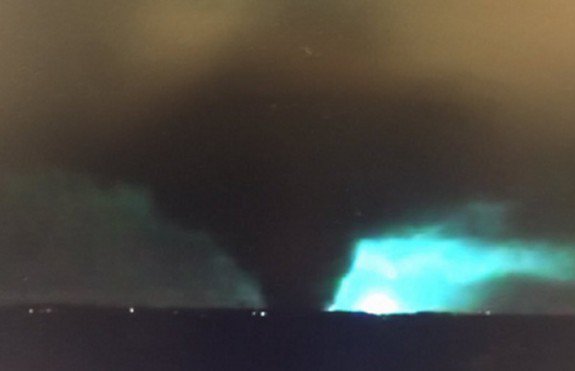 Shortly after 6 p.m. Saturday, I piled several large pillows from the couch in the bathtub and prepared to take shelter there as tornado sirens blared in my neighborhood just south of downtown Dallas.
Fortunately, the worst of the storm passed just to the east, with a massive tornado ripping through Garland, Rowlett and other suburbs, killing at least 11 people and injuring many more.
Eight of the fatalities occurred along Interstate 30 about 15 miles east of downtown Dallas in Garland, where vehicles were flipped over and tossed from bridges. At least 600 structures were also damaged in that area.
"It is total devastation," Garland police Lt. Pedro Barineau said during a Sunday morning press conference, according to The Dallas Morning News.
The death toll was expected to rise, as emergency crews worked amid darkness, heavy rain and cold temperatures.
"As of right now, we are still in the search and rescue mode," Rowlett police spokesman Cruz Hernandez said, according to NBCDFW.com. "We still have some homes that have been demolished and not everyone in the homes has been accounted for."
The deadly tornado was one of several that touched down in the Dallas area on Saturday. North Texas is situated in tornado alley but typically sees these types of outbreaks in the spring and fall, not in late December. Last Wednesday, tornadoes left 17 people dead in Mississippi, Tennessee and Arkansas.
The same storm system that produced the Dallas tornadoes caused a blizzard that was expected to bury parts of West Texas and New Mexico in up to 18 inches of snow by Sunday night.
Photos and video from Saturday's tornado below.
Una auténtica zona de guerra! #Rowlett y #Garland #Texas en fotos tras paso de #tornado. Fotos de @AmesChopper5 pic.twitter.com/luvDozfwpE

— Débora Estrella (@Deb_Estrella) December 27, 2015
Some more images from @AmesChopper5 and Chopper 5 over the #Garland & #Rowlett area. #dfwwx #tornado pic.twitter.com/OolKTL1ywT

— Meteorologist Brian James (@BrianJamesWx) December 27, 2015
https://twitter.com/AmandaNBC5/status/680922182168350720
#NEW 8 people killed in #Garland by twister. 600 structures damaged. Police say everyone accounted for. @CBSDFW pic.twitter.com/T6m9NV5SxR

— Jack Fink (@cbs11jack) December 27, 2015
RT@Basehunters: Our #video of the destructive #TORNADO east of Dallas. https://t.co/YdW0JJUim7 #TXwx #Rowlett pic.twitter.com/P5EXoYrYIo

— Johnny Kelly (Veteran/Meteorology/US government) (@stormchaser4850) December 27, 2015
NEW: 5 dead in #Garland after Saturday's storm. Fatalities in various areas near I30 & Bush Turnpike pic.twitter.com/EB80fgXXyD

— Marcus Moore (@marcusmoore) December 27, 2015
Here's a close look at the radar of the Garland/Rowlett tornado at I-30 and PGBT at 651pm. #txwx #dfwwx pic.twitter.com/PJizmKKsHt

— NWS Fort Worth (@NWSFortWorth) December 27, 2015