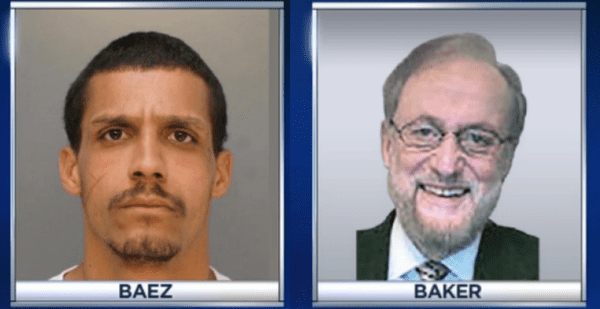 A homeless male prostitute has confessed to murdering and robbing a psychiatrist who hired him for sex on Sunday night in Philadelphia. The doctor's body was found in a hotel room by housekeepers on Monday with a belt tied around his neck. An autopsy report reveals he was strangled to death.
Manuel Baez, 27, was charged Wednesday with the murder of Dr. Howard Baker. The prominent 75-year-old psychiatrist was found dead Monday morning, sitting naked on the floor of his fifth floor hotel room at the Rodeway Inn at 1208 Walnut Street. A belt was tied tightly around his neck and his backpack and wallet were stolen, police said.
Philadelphia Police Homicide Capt. James Clark tells NBC10 that Baez confessed to the crime after being taken into custody Tuesday night.
Baez was homeless and sold his body for sex, according to Clark, an act that Baker allegedly paid for Sunday evening.
Baker was married to a woman and had children. He reportedly told his wife he was going to watch a Philadelphia Eagles game on Sunday when he went to the Rodeway Inn to meet Baez.
Police revealed that surveillance footage from the hotel showed another man meeting up with Baker on the same night. However, that individual is not suspected of having any involvement in Baker's murder.
NBC 10 adds:
Baker practiced psychiatry for 30 years and specialized in relationship problems, ADHD and spirituality.
An arraignment has not been set for Baez. It's not clear whether he has retained an attorney.
Watch a news report on Baker's murder, below.