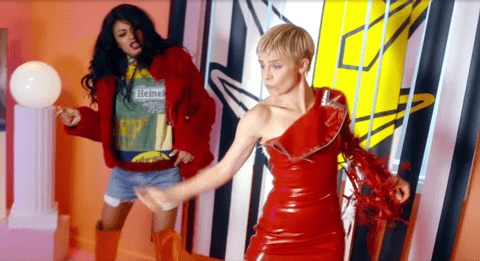 It was nearly six months ago that Robyn and La Bagatelle Magique released their track "Love Is Free", featuring Maluca. Today, they shared the music video for the house-influenced song that takes viewers on a psychedelic ride through an 80s-esque girls slumber party, a museum-turned dance playground replete with references to modern art, a telenovela set (presumably?), and some Brechtian behind-the-scenes moments of a music video shoot.
Robyn & La Bagatelle Magique is comprised of Robyn, Markus Jägerstedt, and the late Christian Falk.
The video was shot in LA and directed by SSION, who has worked with the likes of Perfume Genius, Santigold and The Gossip among others.
Said Robyn of making the music video,
"I loved working with SSION on this video! The thoughts Maluca, Markus, and I had about how to materialise 'Love Is Free' seemed to find a perfect place in Cody's fantastic world. Flesh and paint and dreams, both good ones and bad ones."
Watch "Love Is Free" below: