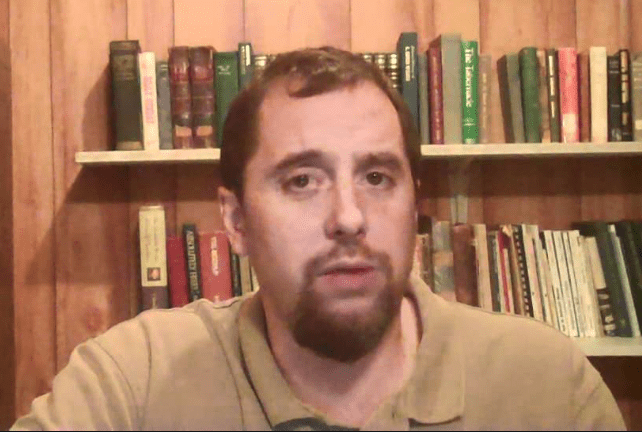 Free speech and religious expression apparently have their limits, even for Baptists protesting gay Pride parades in Fort Worth.
A Texas appeals court this week reinstated the convictions of a Baptist preacher and church member who were arrested for trying to cross a police "skirmish line" during the city's gay Pride parade in 2012.
Pastor Joey Faust (above) and Kingdom Baptist Church member Ramon Marroquin were charged with interfering with police duties after they attempted to closely follow the end of the parade as it passed by. Officers said they stopped Faust and Marroquin, while letting others through the skirmish line, due to "the history of violence induced by their abusive speech," including at least one fight between a church member and a gay Pride participant the previous year.
According to police, gay Pride protesters from Kingdom Baptist Church shouted things like, "I hope you and your children die in a fiery crash" and "You should just go ahead and kill yourself, you faggot."
One appeals court overturned the convictions of Faust and Marroquin last year, saying the arrests violated their rights to free speech and religious expression, but the Court of Criminal Appeals — Texas' highest criminal court — reinstated them Wednesday, according to The Austin Statesman:
"The officers' decision to prevent all members of the Kingdom Baptist Church from crossing the skirmish line was reasonable in light of the information they had received about previous instances of violent confrontations erupting between church members and gay pride parade supporters," Judge Bert Richardson wrote for the majority.
"We agree with the sentiment expressed by the trial court judge — that (Faust and Marroquin) literally crossed the line, from engaging in purportedly protected speech to physically interfering with a lawful police order," he wrote.
The ruling also reinstated the punishment of two days in the Tarrant County Jail and $286 fine given to Faust and Marroquin.
The Statesman notes that Kingdom Baptist Church, which was situated south of Fort Worth, appears to have shut down. And it seems as though Faust, who'd become well-known for anti-gay protests in the Dallas-Fort Worth area, has moved on to Long Run Baptist Church in Missouri.
Watch my report on Faust and his followers protesting outside Fort Worth City Hall in 2009 below.