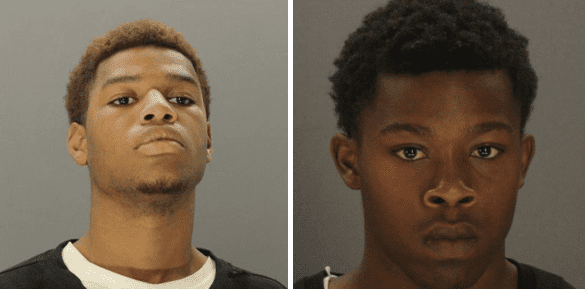 A suspect in a string of anti-gay attacks in Dallas is proclaiming his innocence, saying he feels sorry for the "homosexuals" who were victims and that his mother used to date a transgender person.
Deon Fridia (right) and Donedwin Maxie (left), both 18, were arrested Sunday after allegedly carjacking a woman at gunpoint near the city's Oak Lawn gayborhood. Police initially believed Fridia and Maxie may have been responsible for a string of at least 12 brutal anti-gay assaults and robberies in the area over the last few months.
However, the possible connection seemed to unravel after Fridia's mom said he was incarcerated when many of the anti-gay attacks occurred, and media outlets noted that the carjacking differed significantly from the other incidents.
In a jailhouse interview with The Dallas Morning News on Wednesday, Fridia denied any involvement in the anti-gay attacks, which have put the city's LGBT community on edge and prompted protests over the police department's response:
"It's just a bunch of bull, and I need justice, sir, and I feel sorry for them homosexuals that got, you know, beat up or whatever and robbed, because I got a lot of gay people … lesbian and gay, in my family. My momma used to go with a transgender, so if I had problems with them, I would have beat my momma's ex up, and I never would have had a relationship like I had. … We had a great relationship, sir."
Fridia also claimed he was an unwitting participant in the carjacking, blaming it on Maxie. From the Morning News:
"They got the wrong person," he said. "I'm a very outgoing individual. I'm a people's person … There is not a bone in my body or a nerve in my system that would rob another person. It's not me."
Fridia said he had no idea Maxie was going to rob someone. He said Maxie had been smoking K2, a synthetic marijuana earlier in the night. …
Fridia said he told Maxie he didn't rob people. He said he felt tricked every step of the way by Maxie, who he had met in a facility for wayward youth.
"He is really nothing to me now," Fridia said. "To put me in this situation, he's dead to me."
Listen to an audio clip from Fridia's jailhouse interview below.
[soundcloud url="https://api.soundcloud.com/tracks/236823230″ params="color=ff5500″ width="100%" height="166″ iframe="true" /]