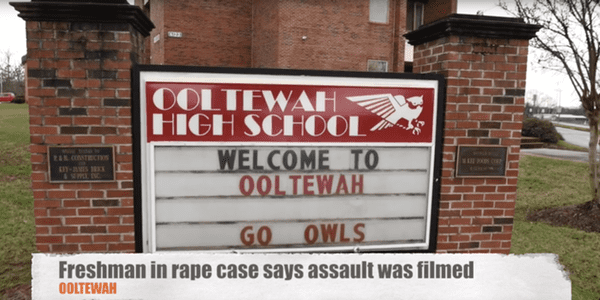 A Tennessee high school has cancelled the remainder of its basketball season as police investigate at least three of the team's players for raping a 15-year-old freshman  teammate.
The attack reportedly happened while the Ooltewah High School boys basketball team was out of town attending a match just before Christmas.
Three juveniles face aggravated rape and aggravated assault charges in the December 22 alleged incident. The victim, 15, was hospitalized and required surgery. His grandmother told CNN he was assaulted with a pool stick.
The school board met in executive session and held a public hearing Wednesday evening that lasted only a few minutes.
Board Chairman Jonathan Welch said he and others have struggled to come up with the right words to describe the case that has roiled the community.
"Tragic, horrific, none describe it," he said. […]
According to Gatlinburg police, the assault allegedly occurred at a rental cabin. The team's coach took the victim to a local hospital. The boy was later sent to a hospital in Knoxville, where he underwent surgery.
The alleged victim's grandmother said there were no adults around when the incident occurred. She said two of the players held her grandson down while a third assaulted him with a pool stick. Gatlinburg police statements do not mention a pool stick.
Her grandson was released from the hospital and is home recovering.
According to at least one news report, the rape of the 15-year-old student was filmed.
Some in the community have raised concerns that the attack will be "swept under the rug" by local officials and that the broader issue of systemic hazing and assault will not be addressed.
In a statement on his decision to cancel the remainder of the basketball season, Hamilton County Superintendent Rick Smith said, "This decision is not a reflection upon the coaching staff indeed law enforcement have to date found no evidence that any adult acted improperly. Likewise this decision is not meant to punish the boys on the team who are innocent of any wrongdoing and simply want to play a high school sport."
Watch news reports on the assault as well as Smith's speech, below.
https://www.youtube.com/watch?v=RA0I5FzLfHc