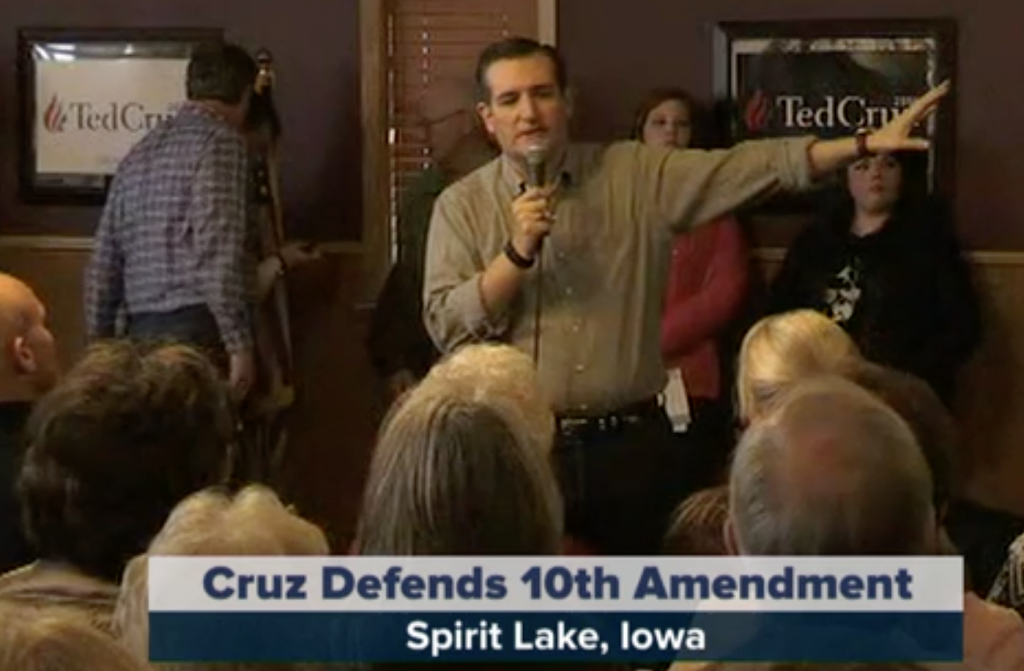 Sen. Ted Cruz is bringing the transgender "bathroom wars" to the Republican presidential primary, in an apparent effort to scare people into thinking that if they don't vote for him, their daughters will soon be sexually assaulted in school locker rooms.
During a campaign stop in Spirit Lake, Iowa, on Wednesday, Cruz said allowing a trans girl to use a faculty restroom amounts to "inflicting him" on teachers, but is better than "sticking him in the shower with the teenage girls," according to NBC News.
As an example of why "having unelected bureaucrats deciding education matters makes no sense," Cruz told the crowd that the U.S. Department of Education is trying to force junior high schools to let "a teenage boy" shower with "the teenage girls."
"That's just nuts," Cruz said. "That's not, 'Oh, that's kind of an interesting idea.' My 5-year-old daughter Catherine, she knows the difference between boys and girls. And by the way, the school said, 'Well, can we at least put up a curtain?'
"'No, no, no. You need to let that teenage boy in the shower.' Now, if the local school board here issued a ruling – we're going to have the boys showering with the girls — you'd thrown them out on their rear ends by the end of the day."
At that point, an audience member told Cruz that one local district is allowing a trans girl to use a faculty restroom.
"I don't know the facts of that, but I'll say that inflicting him on the teachers is probably better than sticking him in the shower with the teenage girls," Cruz said.
Cruz was apparently referring to a case in which the Education Department ruled that a Chicago-area school district violated the civil rights of a young trans woman by denying her access to the girls' locker room. But as usual, Cruz's facts are a little off. The trans student actually agreed to change behind a curtain as part of an agreement between the school and the Education Department, which found that the school had violated Title IX, the federal law that bans discrimination based on sex.
According to NBC News, Cruz has been sighting the case regularly on campaign stops as an example of federal overreach. Back in November, Cruz told a conservative radio show that allowing trans students to use restrooms according to their gender identity is "lunacy."
"Look, these guys are so nutty that the federal government is going after school districts, trying to force them to let boys shower with little girls," Cruz said. "Now listen: I'm the father of two daughters, and the idea that the federal government is coming in saying that boys, with all the god-given equipment of boys, can be in the shower room with junior high girls – this is lunacy!
"And I bet you there are a whole lot of parents – particularly parents of daughters – that are not eager to have the federal government saying 'Guess what? Your daughter has to shower with a boy, if he wants to be in there,'" added the senator.
Cruz, of course, is from Houston, where voters recently rejected an Equal Rights Ordinance based on false, fear-mongering ads suggesting it would allow sexual predators to enter women's restrooms and prey on little girls.
Also Wednesday, Cruz named extermist Iowa Congressman Steve King co-chair of his national campaign. Among other things, King recently said the U.S. Supreme Court's June ruling in favor of same-sex marriage will allow people to marry their lawnmowers.
"I had a strong, Christian lawyer tell me yesterday that, under this decision that he has read, what it brings about is: It only requires one human being in this relationship—that you could marry your your lawnmower with this decision. I think he's right," King said.
Needless to say, King's lawnmower claim is about as true as Cruz's lie about trans students raping teenage girls.
Watch the clip from NBC News below.