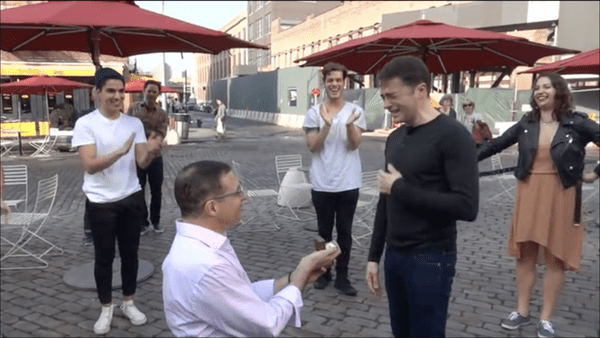 Flash mob proposals have grown in popularity over the years, which makes surprising your beloved with such a proposal all the more challenging. Undeterred, one New York man recently managed to shock his boyfriend with a perfect flash mob proposal that caught him completely off guard.
Mark McDermott had been planning his proposal to boyfriend Yuval David for months, getting family and friends in on the surprise. They all managed to keep the secret from Yuval. Mark decided to pop the question in December, taking advantage of New York's unseasonably warm weather that month. From the couple's YouTube posting:
December 13, 2015, was a rare spring-like day in NYC. Mark and Yuval's family made plans to go to brunch at Bubby's Restaurant, near Gansevoort Plaza, in the Meatpacking District of Manhattan.
Yuval had no clue what was really going on. He was simply happy, with life, love, and work all going well. He was enjoying the day with his partner and family.
Well, the day was about to get better…
As Mark and Yuval arrived for their brunch, Yuval heard a familiar song playing — "That's our song!" he said to Mark, unaware that the flashmob he began to witness was meant for him. Even as he saw friends of his dancing in the streets, Yuval had no idea he was about to be proposed to. When the dancers pulled Mark into their performance, Yuval finally understood what was happening. And his reaction is priceless.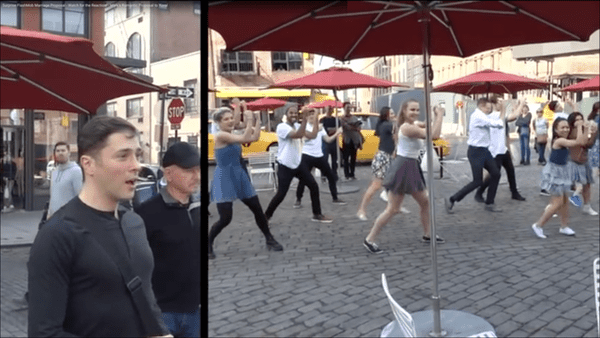 The couple shared that they hope their proposal will "serve as an example of how beautiful and romantic a loving relationship can be, and inspire others with love and joy, no matter the gender or sexuality of the couple." They added, "Love is love, and when it is right, passionate and deep, it is a joy to celebrate."
Watch the adorable proposal, below.
Check out a whole bunch of other gay marriage proposals HERE.
[h/t Attitude]