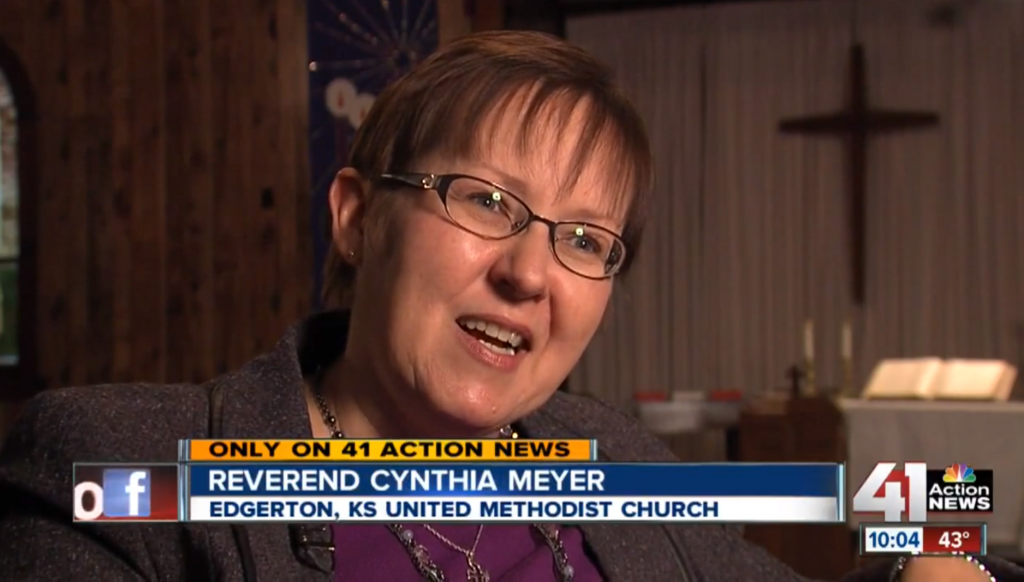 A Kansas pastor who came out as gay in a sermon last Sunday is now facing possible discipline from the United Methodist Church.
The Rev. Cynthia Meyer, pastor of Edgerton United Methodist Church, told her small-town congregation that her coming out was "an act of civil disobedience" against the denomination's ban on gay clergy. The UMC's "Book of Discipline" states that homosexuality is "incompatible" with Christian teaching, and prohibits "practicing" gays from serving in the ministry.
Kansas City's KSHB-TV reports that a complaint has been filed against Meyer, and the UMC is currently reviewing it. The church said in a statement:
"Ordination and membership in an annual conference in The United Methodist Church is a sacred trust. The qualifications and duties of local pastors, associate members, provisional members, and full members are set forth in The Book of Discipline of The United Methodist Church, and we believe they flow from the gospel as taught by Jesus the Christ and proclaimed by his apostles. Whenever a person in any of the above categories, including those on leaves of all types, honorable or administrative location, or retirement, is accused of violating this trust, the membership of his or her ministerial office shall be subject to review. This review shall have as its primary purpose a just resolution of any violations of this sacred trust, in the hope that God's work of justice, reconciliation and healing may be realized in the body of Christ."
Meyer, who's been a Methodist pastor for 25 years, told KSHB:
"[The book of discipline] specifically does not allow homosexuals to be ordained clergy. I could be suspended for a time. There may be an effort to work toward what is called a just resolution, but another possible outcome is that I would lose my clergy credentials and I would not be able to serve as a pastor in the United Methodist Church."
Meyer's coming out was tied to the "It's Time" campaign, launched last year by the Reconciling Ministries Network, which advocates for LGBT equality in the UMC. The campaign encourages LGBT Methodists to share their stories in advance of the denomination's General Conference in Portland in May, where delegates will again debate whether to lift the ban on gay clergy and allow ministers to perform same-sex marriages.
Last year, a Methodist pastor in Michigan said he was forced to resign after church leaders discovered he was gay. And in 2013, the UMC defrocked a Pennsylvania pastor for officiating his son's same-sex marriage, although he was later reinstated.
Watch report, as well as a clip from sermon, below.