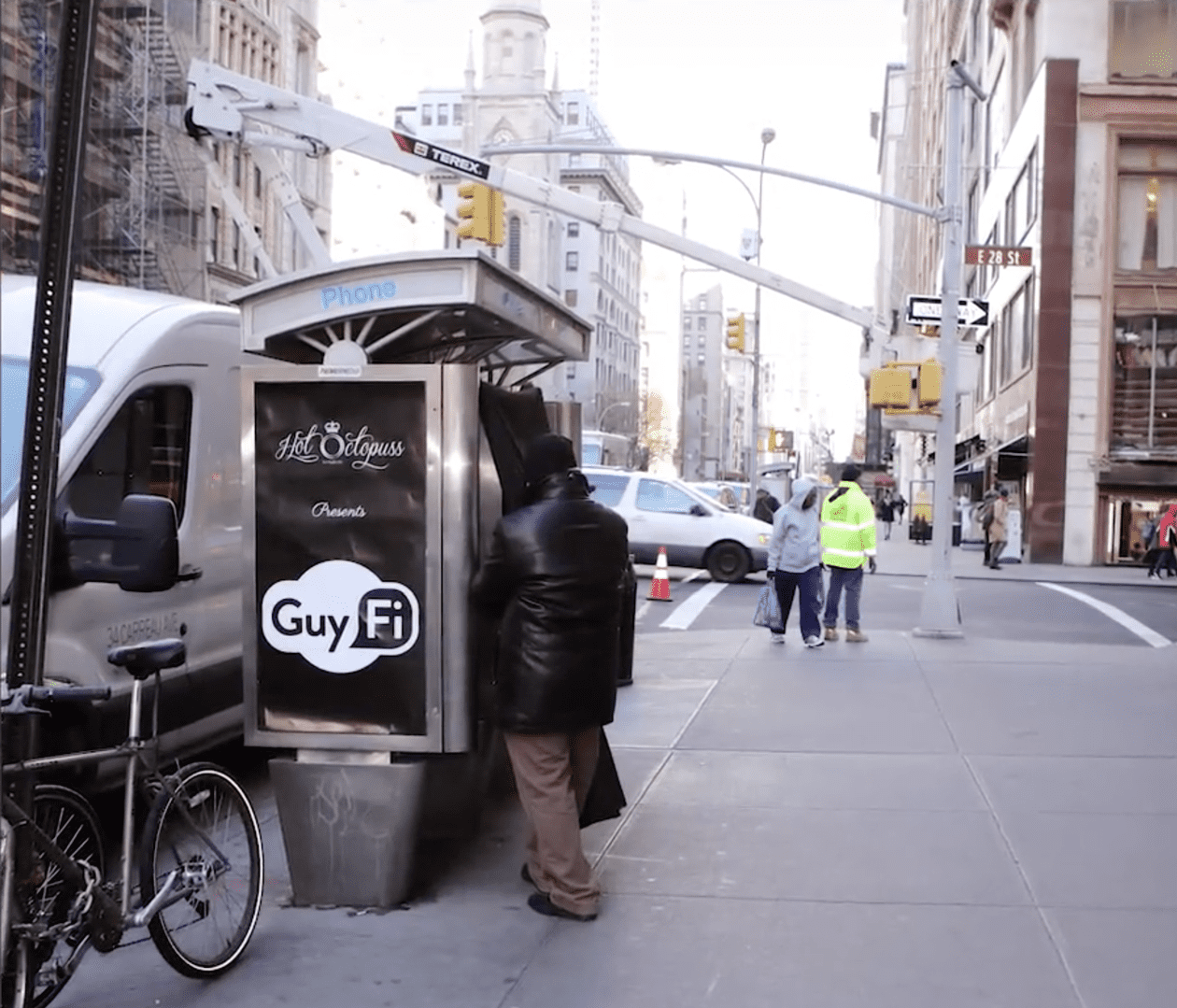 FOR IMMEDIATE RELEASE. London-based sex toy company creates a free "masturbation booth" in NYC: "The 'GuyFi' can be found on 28th street and 5th avenue, complete with a chair, laptop, and curtain so you can yank the ole one-eyed, purple-headed yogurt slinger in peace like the good Lord intended." Said the company's co-founder: "We hope the city's men enjoy using the space we've created in whatever way they want. It's completely free of charge… all that we ask is they thank us when they get their promotion!"
MUSIC. Linda Perry suggests Lady Gaga doesn't deserve writing credit for song "Til It Happens to You" she's credited with co-writing with Dianne Warren: "I'm stating the truth. I credit Diane for writing this song, it is her experience her pain her words. That's it kids. If she gave Gaga writing credit it would ensure the support this song needed and deserved. And Gaga knows her power." Perry says she has the utmost respect for Gaga. Gaga was nominated for an Oscar for "Til It Happens to You" along with Warren.
OSCARS SO WHITE. Jada Pinkett Smith and Spike Lee to boycott this year's Oscars over lack of diversity. Said Pinkett Smith, "Is it time that people of color recognize how much power, influence, that we have amassed, that we no longer need to ask to be invited anywhere? Maybe it's time that we recognize that if we love and respect and acknowledge ourselves in the way in which we are asking others to do, that that is the place of true power."
MLK DAY. Revisit Dr. King's Letter from a Birmingham Jail. 
TELEVISION. PBS to air special documentary on the making of the Broadway show Hamilton: "The filmmakers started shooting the documentary in 2013, two years before the show arrived on Broadway, and have footage of visits by the creative team to historic sites associated with Alexander Hamilton, whose life is the basis of the musical. The film will also feature scenes from the show, and a look at the life of Hamilton…"
AFRICA. Meet Ghana's "pro-gay, anti-religion, naked rapper."
POP STAR HAIR. Justin Bieber shows off purple hair in shirtless gym selfie.
CRIME. Trial of alleged serial killer Stephen Port delayed until October. Port is accused of having murdered at least 4 men he met on apps with lethal doses of GHB: "Port was due to enter a plea on Friday, but both prosecution and defence barristers said the amount of work required meant they would not be ready for a plea hearing until 15 April. The trial, originally set to start in April, will now take place on 4 October, and take at least two months."
FREED. 5 Americans held prisoner in Iran finally freed: "A Swiss plane took Jason Rezaian, the Washington Post's Tehran bureau chief; Saeed Abedini, a pastor from Idaho; and Amir Hekmati, a former U.S. Marine from Flint, Michigan, as well as some family members, from Tehran to Geneva, Switzerland. Shortly afterward, the three left for a U.S. military base in Germany, arriving there later on Sunday, a U.S. State Department official said. One more Iranian-American released under the same swap, Nosratollah Khosravi-Roodsari, was not aboard the aircraft. A fifth prisoner, American student Matthew Trevithick, was released separately on Saturday, a U.S. official said."
AWARD SHOWS. At The Critics Choice Awards, Amy Schumer says she wants to go down on Lily Tomlin.
TECH. Popular messaging app WhatsApp to ditch $1 annual fee.
UK. British parliament debates banning Donald Trump from entering the United Kingdom in response to a popular petition: "Trump was described by the MPs as an "idiot," a "buffoon," a "fool," a "wazzock," and a "demagogue." One Member of Parliament, Tulip Siddiq, who is Muslim, today spoke in support of banning Trump. "His words are not comical. His words are not funny. His words are poisonous," she said (videoabove), noting Trump is "interviewing for the most important job in the world."
MALE MODEL MONDAY. Pretty boy Xavier Gutierrez.
https://instagram.com/p/_YcScZFU4e/?taken-by=x_gutierrez