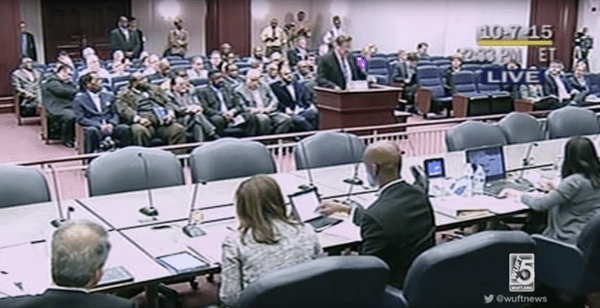 The Florida House Judicial Committee postponed a vote on the so-called Pastor Protection Act on Thursday after the committee reportedly ran out of time due to a lengthy debate on a proposed gun bill.
ACLU's Michelle Richardson and Equality Florida both took to Twitter to break the news about the delayed vote.
FL's Pastor Protection Act hearing delayed due to long debate on gun bill. Next week!

— Michelle Richardson (@Richardson_Mich) January 28, 2016
UPDATE: Time ran out in cmte & members of the @MyFLHouse Judiciary cmte did NOT vote on the so-called Pastor Protection Act today. #flleg

— Equality Florida (@equalityfl) January 28, 2016
The Pastor Protection Act (SB 110) got its first hearing in the Senate Judiciary Committee earlier this week where it was approved by a vote of 7 to 3.
If enacted, SB 110 would prevent clergy in the Sunshine State from being sued if they turn away gay couples who want to marry.
It's a concern for pastors who fear they could be sued, said bill sponsor Sen. Aaron Bean, R-Fernandina Beach. That was the issue raised by dozens of clergy and religious activists who came to Tallahassee to argue for the bill.
"This is not about individual choice, it's about divine design that we are forced to reinforce," said Gilberto Rodriguez, senior pastor of Templo Elias in Lutz.
Opponents argued that the Pastor Protection Act is redundant because of the U.S. Constitution's protection of religious rights. They worry that the bill could be the first step in eroding lesbian, gay, bisexual and transgender rights.
Equality Florida has denounced the bill, warning that it could usher in an erosion of LGBT rights in Florida:
"Not only is this bill an insult to loving and committed same-sex couples across the state, we heard loud and clear from members of the Senate Judiciary Committee yesterday that they wish to expand the scope of this bill to encompass all individuals, including government employees and business owners who serve the public, who seek to deny goods and services to folks with whom they disagree.
Pastors and clergy of all faiths are already fully protected by the First Amendment to the Constitution, and as such, we know this bill to be unnecessary, divisive, and dangerous. Our fears that this bill would be expanded have been all but confirmed, and we need as many people as possible to contact key legislators and tell them to stop this ticking time bomb in its tracks."
The Florida Senate Judiciary Committee was also supposed to take up another piece of LGBT-related legislation this week, the Competitive Workforce Act (SB 120), which would expand the state's existing civil rights laws to make illegal discrimination based on sexual orientation and gender identity. However, a vote on that bill was postponed until next week by Sen. Miguel Diaz de la Portilla (R), the Senate committee's chairman.
Said Sen. Joe Abruzzo (D) of SB 120, "It truly is the most important bill for civil rights that will be taken up in the past 40 years." Abruzzo is one of the bill's sponsors.
Watch a news report on the Pastor Protection Act, below.
https://www.youtube.com/watch?v=Z7taYKHS9hk