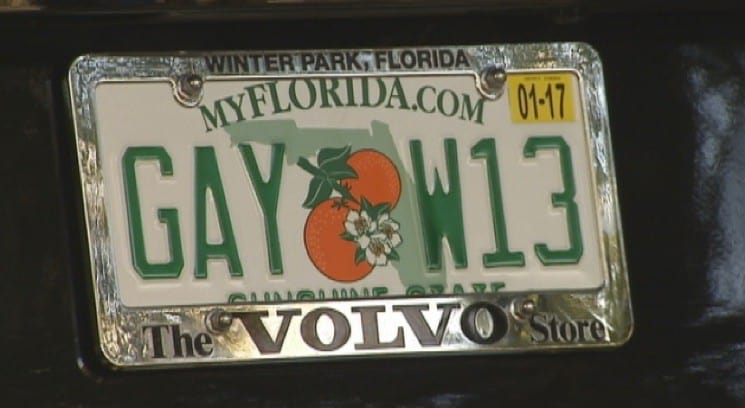 A Florida man is unhappy about receiving a license plate from his car dealership that spells out the word, "GAY." Far from being a vanity plate, the license plate (pictured above) was issued by the Florida DMV. When the man asked his dealership for a new set of plates, the dealership told him that every plate they had included the word "GAY" on it.
Miami New Times reports on how Florida's license plates got GAY:
On the default plates, the first three letters are separated from the last letter and two numbers by an orange. There are certain words that the state bans from appearing on plates, but "gay" isn't one of them. So it was only a matter of time until the state produced plates starting with "GAY."
Driver Craig Lukas bought a new Volvo with his partner at a Winter Park dealership three weeks ago, but has left it in his garage because of what it says on his license plate.
"Plenty of combinations out there the state could have used," Lukas said. "Oversight on state as far as I'm concerned."
Lukas believes the plate is slightly offensive and said state officials should be more sensitive.
Lukas said the dealership tried to get his car another one, but that every plate they had had the word "GAY" on it.
The dealership said as soon as it realized what the plates said, that it returned them to the county.
The report from WFTV notes that Lukas was "offended" by the license plate, but also notes that he purchased the car with his partner. The partner is never referenced by name or introduced on camera but presumably is a same-sex partner.
Lukas says he and his partner are keeping their car in their garage until they can get new license plates, which the state said it would provide. Lukas says, "We just prefer to remain quiet."
Meanwhile, The Tax Collectors Office has no plans to stop issuing GAY license plates: "These plates have been vetted by the state and we see no issue with them."
Watch a news report from WFTV 9, below.