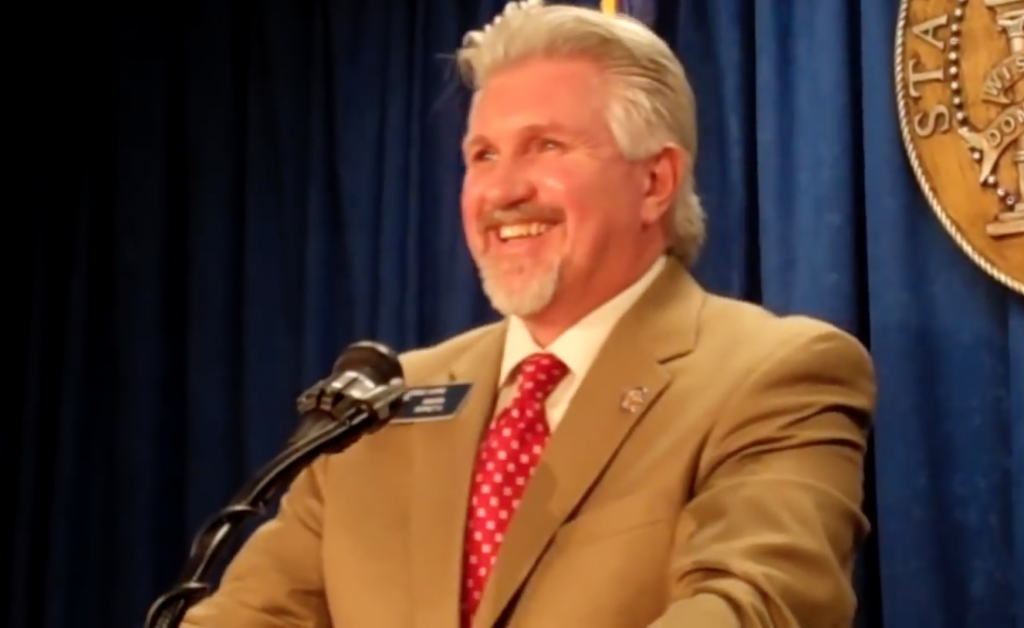 The author of a disgusting new proposal aimed at legalizing anti-gay discrimination in Georgia is absurdly claiming his bill is designed to promote the principle of "live and let live."
Georgia Republican Sen. Greg Kirk, a former Southern Baptist pastor, also said that although he didn't discuss the bill with LGBT groups, he did share it with "close friends" who "live a gay lifestyle" and ask for their viewpoint.
Kirk on Thursday introduced his so-called First Amendment Defense Act (FADA), a state version of a proposed federal law designed to give virtually every individual and entity — from government employees and contractors to nonprofits groups and for-profit businesses — a license to discriminate against same-sex couples and their children.
At a press conference, Kirk acknowledged that regardless of how people feel about same-sex marriage, it's now the law of the land under the U.S. Supreme Court's ruling in Obergefell v. Hodges.
"The question is how do we move forward in Georgia?" Kirk said. "I'm proposing that we proceed on a principle first articulated by those who fought for same-sex marriage, and that's simply 'live and let live.'"
Kirk's Senate Bill 284 would prohibit government from "taking discriminatory action" based on a person's belief that "marriage is or should be recognized as the union of one man and one woman" or that "sexual relations are properly reserved to such a marriage."
In other words, SB 284 would allow any "person" — which the bill defines as "any individual, corporation, partnership, proprietorship, firm, enterprise, association, public or private organization of any character, or other legal entity" — to discriminate against gay couples, their children, single parents, unmarried couples, pregnant women and others, based on religion.
Lambda Legal called Kirk's bill "divisive" and "dangerous," saying it would unleash "legal havoc" and effectively treat for-profit businesses like churches. The Human Rights Campaign called SB 284 "despicable" and "reckless," adding that it "threatens to create a breakdown of state government services." One LGBT legal expert said Kirk's bill is far worse than another anti-LGBT measure, the Religious Freedom Restoration Act, calling it "RFRA on steroids."
At one point during his press conference, Kirk held up a copy of the bill with signatures from what appeared to be more than 30 co-authors – which he said represented a majority of the Republican caucus. However, when asked to hold up the bill again, Kirk declined.
"What do you have to hide?" one reporter asked.
"There's nothing to hide," Kirk responded. "I don't know what your camera does. I don't want you focusing in. Is there a problem with that? … You can actually get the names once I drop the bill."
There are 39 Republicans in the Georgia Senate, but according to the Legislature's website, Kirk's bill currently has only five co-authors.
When Kirk was asked whether he had discussed the bill with LGBT groups, he claimed none had approached him.
"Look, I'm 52 years old," he said. "I've grown up with friends who now live a gay lifestyle, but they're still very close friends to me, and I care deeply about them, and I have shared this with some of my friends and asked their viewpoint as well, and that's been part of my vetting process."
Watch Kirk's full press conference below.