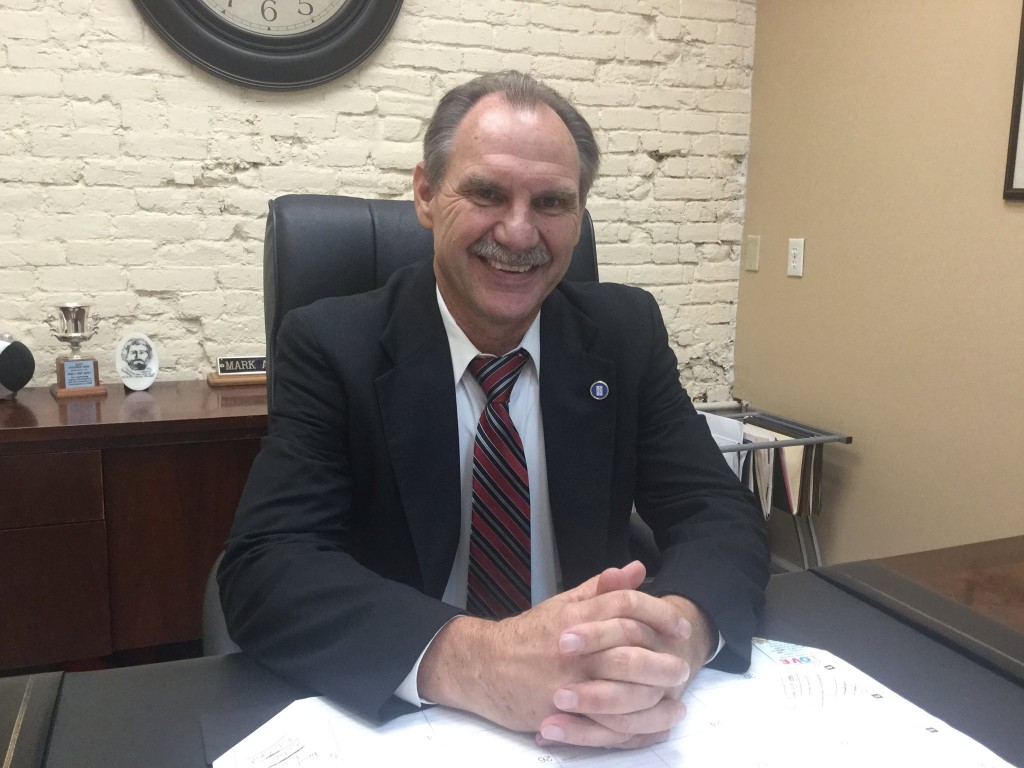 After 90 minutes of testimony, mostly in support of the measure, a Tennessee House Committee voted Wednesday afternoon to kill an anti-gay marriage bill.
House Bill 1412, from Rep. Mark Pody (above), would have declared the U.S. Supreme Court's ruling in Obergefell v. Hodges "unauthoritative, void, and of no effect." Pody has said that God told him to file the bill because same-sex marriage is "wicked," and six Tennessee counties have passed resolutions in support of the measure. However, five members of the House Civil Justice Subcommitee rejected HB 1412, known as the "Natural Defense of Marriage Act," on a voice vote.
From The Tennessean:
Rep. Mike Carter, R-Ooltewah, said though he disagreed with the U.S. Supreme Court ruling and believed the court's decision was overreaching, he did not feel the bill was the way to do it.
"You're asking us to step out where no one has stepped before," he said, adding that the bill to nullify the nation's highest court decision should be the last resort.
The hearing drew a full crowd to the committee room, with about 75 people spilling out to watch on a television in the hallway. Representatives of the Tennessee Equality Project and ACLU of Tennessee attended, as did several people wearing shirts saying "repent or parish" and stickers saying "I support HB 1412."
They cheered and scoffed occasionally throughout the hearing.
More from The Commercial-Appeal of Memphis:
Bills are rarely "killed" in the Legislature because under various rules, supporters could attempt to resurrect it. But it is as close to dead for the year as legislation gets. …
Pody, an insurance agent, asked Jeff Cobble, an attorney from Greeneville, Tenn., to present part of his case to the subcommittee. Cobble told lawmakers the dispute "is a separation of powers issue. I can tell you as a student of the Constitution … that there is nothing in federal law ever, ever, ever that gives the federal courts or the federal government constitutional jurisdiction in the field of marriage.
"I'm here to tell you that the U.S. Supreme Court decision is pure social engineering. They have acted lawlessly," Cobble said. "Do we still have states' rights or are we federal subjects? I've spoken to people who say that because of the Civil War amendments we are just federal subjects. I am here today to tell you I am not a federal subject."
Chuck Gallagher, a speaker from the audience, asked the subcommittee not to kill the bill: "Let it go to the floor of the House for a vote. Do not let it die here. Let it go to your peers and be voted on the way its supposed to be voted on. Do not kill this bill in committee. Let it go to the floor. In the name of Jesus I'm asked you to do that."
Here are a few reactions from Twitter:
https://twitter.com/psychokitty30/status/689943541473222660
https://twitter.com/jprichva/status/689946007677845504
Supporters of 'natural marriage' gather in empty hearing room and pray over Rep. Mark Pody. We should "just let God be God," Pody says.

— Stacey Barchenger (@sbarchenger) January 20, 2016