DIVERSITY. Actor Idris Elba calls for more gay representation on TV in speech to British parliament: "Diversity in the modern world is more than just skin color. It's gender, age, disability, sexual orientation, social background, and – most important of all, as far as I'm concerned – diversity of thought."
SPORTS. New organization Sports Equality Foundation seeks to empower athletes and coaches to come out publicly: "The foundation branched off of the work of the Ben Cohen StandUp Foundation, which has focused on anti-bullying to the LGBT community for the last five years in the U.S. and United Kingdom. While similar groups are focused on speeches and sensitivity training, Outsports.com co-founder Cyd Zeigler told USA TODAY Sports 'we believe the singular most important tool to changing sports is people coming out.' Ziegler will serve on the foundation's advisory board. Joining him will be Jason Collins, the first out NBA player, and Billy Bean, an openly gay former MLB player who serves as the league's ambassador for inclusion, among others."
TRENDS. "Man braids" are 2016's answer to the "man bun." 
OH SAY CAN YOU SEE? Police officer and former American Idol contestant steps in for singer who got stuck in snow storm, wows the crowd. Video goes viral. 
RAPE. R. Kelly defends Bill Cosby: "…when I look on TV and I see the 70-, 80-, 90-year-old ladies talking about what happened when they were 17, 18, or 19, there's something strange about it. That's my opinion. It's just strange."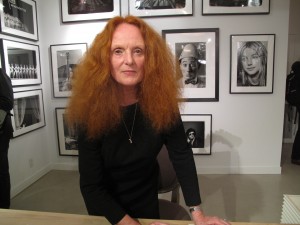 FASHION. Vogue's creative director Grace Coddington steps down: "I really love Vogue, it's been in my life always, they discovered me as a model at 19…I'm not running away from Vogue, because it has opened so many doors. But it will be nice to collaborate, and nice to go out [and] give talks to people. It's just another approach. I'm certainly not going into retirement. I don't want to sit around."
HUMP DAY HOTNESS. In case you didn't get enough River Viiperi in Andy's morning round-up, there's more to sate you here.
MAMA GRIZZLY. Sarah Palin says her son Track was arrested for domestic abuse charges because he has PTSD and President Obama is to blame for him having PTSD. Word salad ensues: "It's a shame that our military personnel even have to wonder, if they have to question, if they're respected anymore. It starts from the top. The question though that comes from our own president where they have to look at him and wonder, do you know what we go through? Do you know what we're trying to do to secure America and to secure the freedoms that have been bequeathed us?"
THE FORCE. Star Wars: Episode VIII release date has been pushed back seven months. 
TELEVISION. Colton Haynes is going to guest star on The Grinder. 
POLITICS. Former U.S. Senator and Republican presidential nominee Bob Dole would choose Trump over Cruz: "I question his allegiance to the party," Mr. Dole said of Mr. Cruz. "I don't know how often you've heard him say the word 'Republican' — not very often." Instead, Mr. Cruz uses the word "conservative," Mr. Dole said, before offering up a different word for Mr. Cruz: "extremist." "I don't know how he's going to deal with Congress," he said. "Nobody likes him." But Mr. Dole said he thought Mr. Trump could "probably work with Congress, because he's, you know, he's got the right personality and he's kind of a deal-maker."
WOOFY WEDNESDAY. Matthew Camp shows off some scruff.
https://instagram.com/p/BAxd50dndxP/?taken-by=matthewcamp