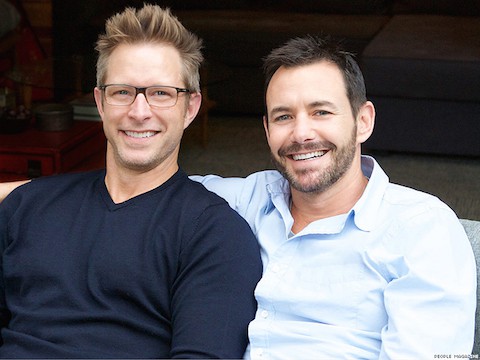 Actors Larry Sullivan and David Monahan have joined the cast of HBO's upcoming limited series Big Little Lies. The married actors made headlines earlier this year starring in a Campbell's Soup ad also featuring their son.
Deadline reports that the pair join an already star-studded cast including Nicole Kidman, Reese Witherspoon, Alexander Skarsgard, Adam Scott, Laura Dern and Shailene Woodley. The dark comedy is based on the 2014 novel of the same name by Liane Moriarty following three seemingly perfect mothers of kindergarten students driven to murder.
You may also recognize Sullivan from his work on CSI, Modern Family or Will & Grace and Monahan from appearances on Crossing Jordan and Dawson's Creek. Their Campbell's ad drew the ire of One Million Moms when it debuted last fall, compelling the conservative organization to promote a boycott on Campbell's products. The commercial also earned lots of positive feedback, including earning Sullivan and Monahan the title of "Sexiest Pitchmen" in People magazine's "Sexiest Man Alive" issue.
Watch the ad again, below.
https://www.youtube.com/watch?v=7rZOMY2sOnE