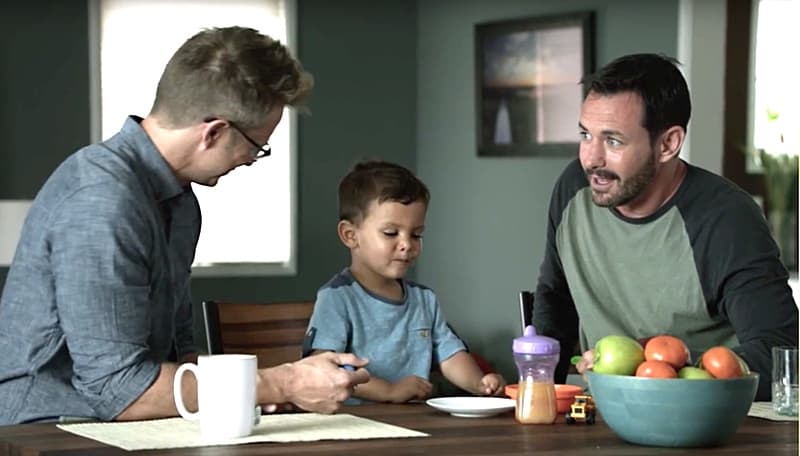 The questionably powerful American Family Association subgroup One Million Moms are up in arms over the adorable ad we featured recently from Campbell's Soup, featuring two real-life gay dads and their son.
https://www.youtube.com/watch?v=7rZOMY2sOnE
Clutch your most evil Christian pearls while reading their call to arms:
How confusing for this little boy and for all children viewing this commercial. Obviously, Campbell's is sending the message that homosexual men are raising children, whom they wouldn't have if a woman wasn't involved, and they are ok with it.
Campbell's Soup is glorifying this unnatural marriage. One Million Moms believes family is based on love, but this does not justify normalizing sin. 1MM does not agree with the need for Campbell's to support same sex marriages or couples.
Companies should advertise the quality of their products. It is no longer about the product but about their cause. They should not be highlighting who is attracted to whom or who sleeps with whom. This is a marketing decision Campbell's will regret.
This gay-inclusive commercial is attempting to desensitize viewers. There is concern about the way this ad is pushing the LGBT agenda, but an even greater concern is the way that they are attempting to redefine "family" and "real marriage."
OMM is asking their followers (all six of them) to contact Campbell's Soup and threaten to boycott their brands like Pepperidge Farm, Pace, Spaghetti O's, V8, Swanson, and Prego.
So, you know what to do. Campbell's 1-800-257-8443. Facebook, website.
Sullivan and Monahan, the real-life gay dads in the ad with their son Cooper, may look familiar to Towleroad readers. They were featured recently as a couple in a Sabra Hummus ad we reported on in May. As we explained then, Sullivan and Monahan are both actors (you might recognize Sullivan from his roles on Modern Family, CSI, or Will & Grace and Monahan from Crossing Jordan or – way back – Dawson's Creek, though both have appeared in dozens of roles in TV and film).