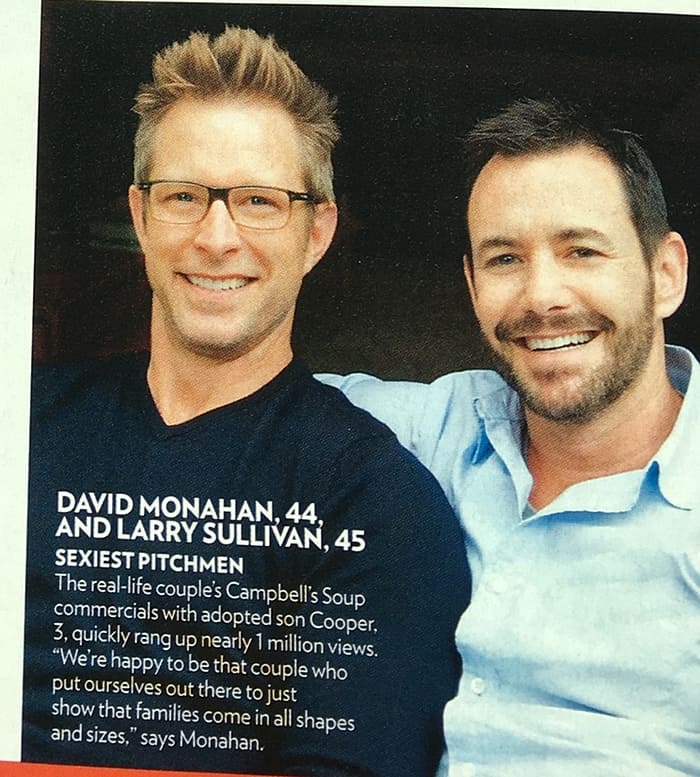 David Monahan and Larry Sullivan, the real-life gay dads who with their son Cooper enraged conservative hate group One Million Moms with their super-adorable Star Wars-themed Campbell's Soup ad, have been named "Sexiest Pitchmen" in People magazine's Sexiest Man Alive issue.
Said Monahan: "We're happy to be that couple who put ourselves out there to just show that families come in all shapes and sizes."
Added Sullivan: "I didn't realize it would blow up and become the big deal it has become. Neither of us have been on the 'I'm an activist' train, and I still don't think we really are, because all we're doing is just living our lives. But it just so happens that our spot is entering people's living rooms that normally probably wouldn't let us into their homes, and they don't really have a choice."
The ad, called "Your Father", has been viewed on YouTube nearly 1 million times.
Watch the ad below:
https://www.youtube.com/watch?v=7rZOMY2sOnE
Sullivan and Monahan may look familiar to Towleroad readers. They were also featured recently as a couple in a Sabra Hummus ad we reported on in May. As we explained then, Sullivan and Monahan are both professional actors (you might recognize Sullivan from his roles on Modern Family, CSI, or Will & Grace and Monahan from Crossing Jordan or – way back – Dawson's Creek, though both have appeared in dozens of roles in TV and film) as well.