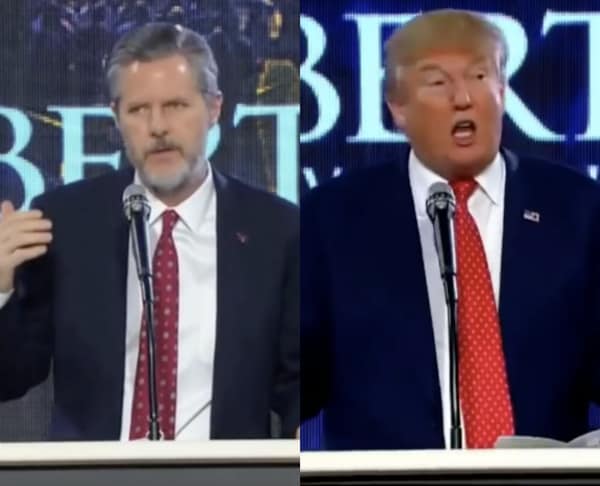 Jerry Falwell Jr., president of the über-religious Liberty University and son of the late hate-mongering televangelist for whom he is named, endorsed Donald Trump for president on Tuesday.
In a statement announcing his endorsement, Falwell called Trump "a successful executive and entrepreneur, a wonderful father and a man who I believe can lead our country to greatness again."
Falwell's move has long been expected since he has showered praise on the billionaire in recent weeks and developed a rapport with Trump. But the timing of the formal announcement is significant, coming as Trump and Ted Cruz compete intensely in Iowa for the support of social conservatives.
"It is truly an honor to receive Jerry's endorsement. Not only is he a high-quality person, with a wonderful family, whom I have great respect for – I also consider him a very good friend and his support means so much to me," Trump said in a statement.
Of the leg work Trump's camp did to gain Falafel's endorsement, WaPo adds:
The Falwell endorsement came together over the course of several months, with the school leader and Trump exchanging private phone, according to Republicans familiar with the relationship. By late last year, Falwell was publicly encouraging Trump, even though he held off on an endorsement. "Trump reminds me so much of my father," he said in a December interview with Fox News.
The endorsement from Falwell comes just days before the Iowa caucuses. Evangelical voters are a key constituency in the Hawkeye state;s Republican electorate, making Falwell's endorsement of Trump potentially impactful. Ted Cruz has been leading among evangelical voters in Iowa throughout the majority of major polls. Politicos now speculate that Falwell's endorsement could lead Cruz's support among evangelicals to wane.
The endorsement of Trump over Cruz came as a particular blow to the Cruz campaign given that Cruz chose Liberty University as the site where he made his announcement that he was running for president.