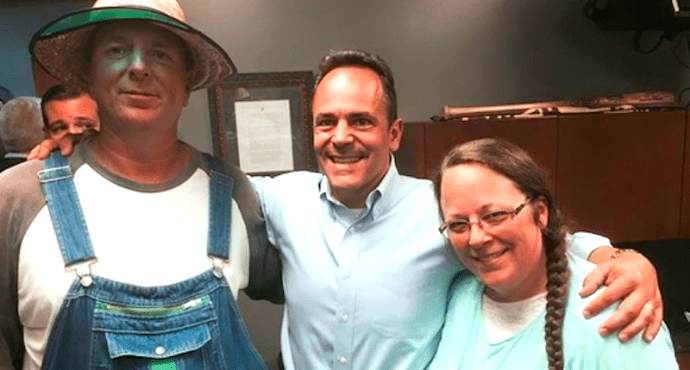 A federal judge has ruled that Kentucky must pay $1.1 million to the lawyers who represented the plaintiffs who successfully challenged the state's gay marriage ban last year.
The Kentucky case was one of many challenges to statewide marriage bans lumped together by the U.S. Supreme Court in what became Obergefell v. Hodges. The Court's ruling in that case effectively legalized same-sex marriage nationwide.
The lawyers for the Kentucky plaintiffs originally sought more than $2 million for their work fighting for the rights of Kentucky gay couples. That figure would have covered both their legal fees and expenses as well as a bonus federal law allows for "extraordinary cases." However, the judge in this case did not find that the attorneys met the legal requirements for the bonus.
Though [Judge Charles R. Simpson] applauded their efforts as having "an important effect on society," Simpson declined to award them the enhanced fee, reasoning that is intended for exceptional cases lawyers might be otherwise unwilling to take on.
And he disagreed with their characterization of same-sex marriage as unpopular: They had supporters around the world, he wrote. Hundreds filed on their behalf in court, including 167 United States congressmen and 44 senators.
Dan Canon, lead attorney for the plaintiffs, declined to comment and said they were still "weighing our options."
A spokesperson for Kentucky's newly elected Republican governor, Matt Bevin (above center), said that Bevin's legal counsel is reviewing Simpson's ruling: "We are pleased that the court did not award any bonus attorney fees and eliminated certain fees and expenses that the court deemed unnecessary."
Kentucky's ban on same-sex marriage was first struck down by U.S. District Judge John Heyburn in 2014. Attorney General Jack Conway then refused to defend the ban, leading then-Governor Steve Beshear to enlist outside legal aid in defending the ban in court.