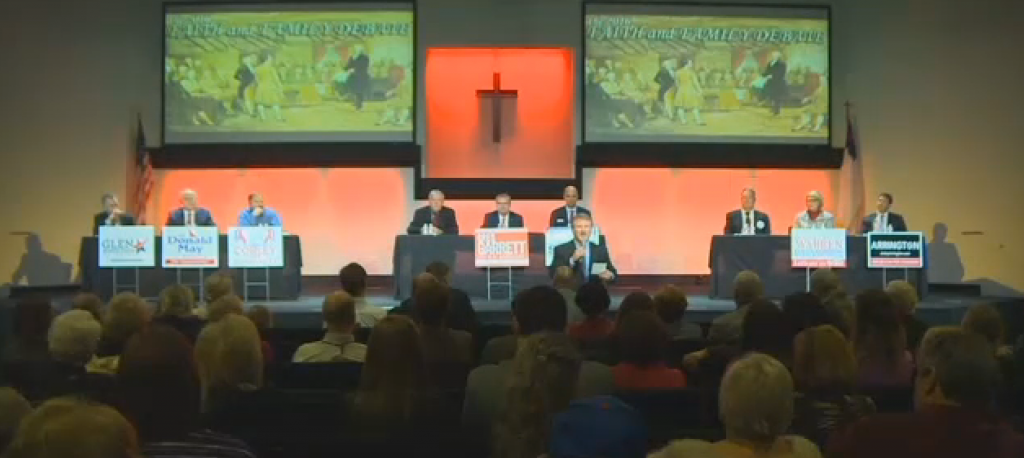 President Barack Obama is blocking "confused" transgender people from getting "psychiatric help," and a small, vocal minority of LGBT people is using the "strong arm of liberal government" to discriminate against Christians.
Those were among the views expressed by nine Republican candidates for Congress from West Texas during a "Faith & Family Forum" in Lubbock on Tuesday night. The candidates are vying to replace right-wing Rep. Randy Neugebauer, who has repeatedly suggested that same-sex marriage will destroy America, in House District 19. There are no Democrats seeking the seat.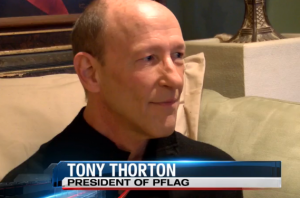 Lubbock County Republican Party Chairman Carl Tepper, who co-moderated the forum, vowed to send someone to Congress who'll fight for "Christian morals," which he says are under "full frontal assault", according to The Lubbock Avalanche-Journal.
KLCW-TV reports that organizers hoped the forum "would show voters the spiritual disposition of the candidates and whether they are prepared to defend people of faith from our own government."
According to KLBK-TV, one of the questions posed to the candidates was, "What is your moral conviction on the matter of gender choice?"
"We are born a specific gender. … You'll see a little boy wearing mom's shoes or little girl wearing dad's shoes, that's just normal experimenting behavior," responded Dr. Donald May, a retired surgeon. "But the problem we have right now is that the President of the United States is trying to block people that are confused from getting help, psychiatric help, counseling and such."
"I agree with Dr. May that it's a mental disorder that someone should seek treatment for," said another candidate, farmer Jason Corley.
Lubbock Mayor Glen Robertson, who last year called his city's score of zero from the Human Rights Campaign "completely bogus," also chimed in.
"I believe you're born man or female," Robertson said. "I do not believe in gender transition."
The candidates were also asked about their views on same-sex marriage and religious freedom, according to KLCW-TV.
"I'd fight for our religious liberties. I'd fight for the First Amendment and every other amendment," said Jodey Arrington, the former vice chancellor at Texas Tech University. "The Supreme Court was supremely wrong to redefine marriage, and they usurped the will of the people and they violated the Tenth Amendment."
Corley, the farmer, proposed an interesting strategy for dealing with high court justices who voted in favor of same-sex marriage.
"Republicans in Congress voted to OK these guys to let them in there," Corley said. "When I go to Congress, here's what I'm going to do: I'm going to jump up and down, stamp my foot, beat on the table and say no, we're not going to allow this."
As ridiculous as Corley's strategy sounds, it would arguably be more effective than the one proposed by veterinarian John Key.
"We've got a bunch of nuts up there in Washington, and it's time for somebody to go up there and crack those nuts," Key said.
Tony Thornton, president of PFLAG Lubbock, told KLBK-TV that he was disappointed in the candidates' responses.
"They're talking Republican platform and they don't seem to care or think what this might do to a young transgender person or a young gay person who is struggling with their sexual identity," Thornton said. "It just appalled me that these smart, educated people — doctors, retired surgeons — they know better and are still calling it a mental defect or that we have a choice."
Watch KLBK's report here, and watch KLCW's report below.