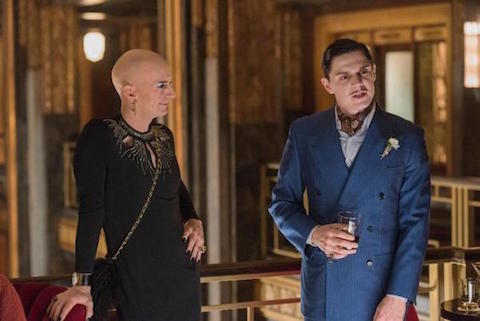 If only American Horror Story: Hotel could have made us care about its characters as much throughout the season as it did in last night's sentimental finale. The closing chapter of this season doled out endings — mostly happy — to the resident ghouls, ghosts and others at the Hotel Cortez, jumping forward in time to 2022.
Last week, I questioned who the protagonist of this season truly was, and it's clear now that it was Liz all along. By putting the show's strongest character squarely in the spotlight for its conclusion, Hotel was able to leave us with a (mostly) satisfying sense of closure.
Considering all the myriad stories woven throughout Hotel, last night's episode, "Be Our Guest," did an admirable job making sure most of the loose ends were at least somewhat tied up.
Find out if your questions were answered in our SPOILER-filled recap, below.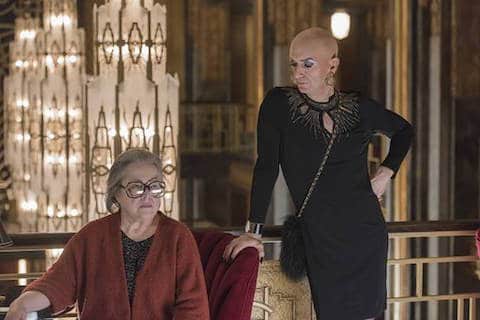 Liz (Denis O'Hare) and Iris (Kathy Bates) are going all Chip and Joanna on the Hotel Cortez. They sold Gaga's fancy art and used the cash to upgrade the digs with Egyptian cotton, fancy Japanese toilets and, you know, mattresses that aren't stuffed with corpses.
The only problem is whenever guests check in, they're all murder-stabbed before they can rave about the accommodations on TripAdvisor. Like any good managers, they know what they must do: They call a meeting! Everyone in the conference room, er, bar!
With a handful of resident specters present, Iris and Liz lay out their new policy: No more killing guests. For some, like the Scandinavian ladies from the premiere, it's easy. They've created a sort of phantom throuple with one of their murdered men. It's also not a stretch to ask Marcy the real estate agent (Christine Estabrook), who just wants to read her erotic novels and have some alone time. It's only restless Will Drake (Cheyenne Jackson) and lonely Sally (Sarah Paulson) who are holding out.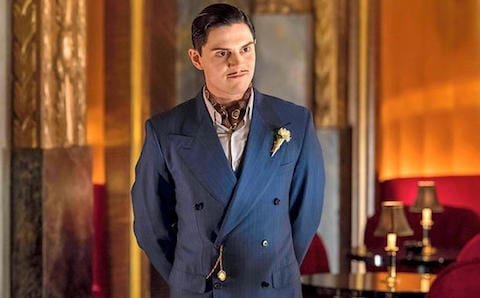 Enter James Patrick March (Evan Peters). Surprisingly, he's here to support the new no-kill policy. But why the about face? Well, not only did the conclusion of the Ten Commandments Killings conveniently bring him some closure, but he's thinking about the future. 2026, to be exact. That's when the Hotel Cortez becomes eligible to be named a historical landmark. No one knows what happens if the building got destroyed. (Would their souls be set free? Would they cease to be? Would they finally face judgment for their crimes?) Therefore, it's in everyone's best interest for the hotel to succeed.
Still not satisfied, Sally storms off in a huff. Iris finds her in her room and gives her a little gift. It's an iPhone! Sally's melodrama, loneliness and desperate need for validation is a perfect match for the internet. She becomes "the ghost in the machine," amassing an audience on social media. The attention is so satisfying she's even able to kick her heroin usage.
One salty spirit down, Liz turns her attention to Will Drake. At this point, he's been dead a year, and he's feeling directionless. Liz floats the idea that he can position himself as a brilliant recluse, designing his fashions from the hotel while Liz acts as his stand-in back in the boardroom. Liz is, of course, perfect for this job. A paragon of fabulousness and a total bitch on heels, she struts right into the boardroom and asserts her power immediately.
Drake becomes an even bigger phenomenon with his whole Howard Hughes' schtick. He adds to the intrigue by holding exclusive fashion shows at the hotel featuring the Scandinavian girls, Sally and Ramona (Angela Bassett).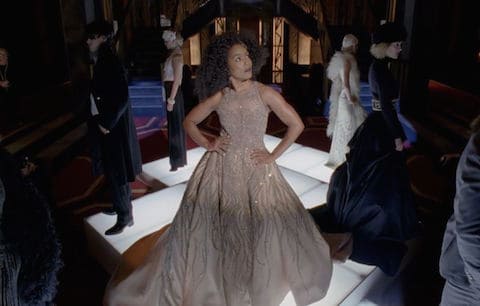 Bringing the fashion elite back into the hotel dredges up some sad memories for Liz. She's still bereft over the loss of her one true love, Tristan (Finn Wittrock). Iris can't stand to see her buddy in pain, so she brings in famed TV psychic (and season one character) Billie Dean Howard (also Sarah Paulson). The medium is able to contact Tristan for Liz, but the bad-boy model tells her he's got nothing to say to Ms. Taylor. Heartbroken, Liz is convinced Tristan blames her for his death.
But before Billie can leave, she gets another message. Something about cartoons and pancakes? It's from Donovan (Matt Bomer), and it's a sweet ode to his mom, whom he thanks once again from the great beyond. Iris is moved to tears. How sweet!
Liz can't spend too much time moping about. Not only does she have a high-powered gig in the fashion world, but she's also got a brand new baby granddaughter. Adorable!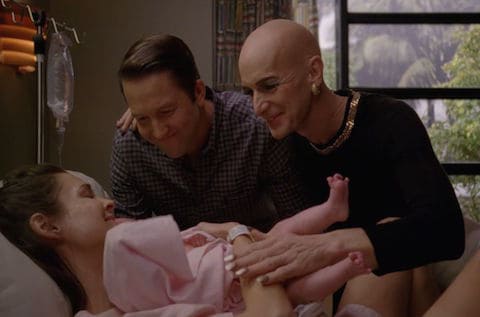 Everything's coming up Liz until she gets word that she's a lady with prostate cancer. And it's inoperable. Looks like it's time for Liz to make some tough choices.
First, she turns down Ramona's offer to turn her into one of the vamps. (She's not one to kill. Not anymore, at least.) Instead, she rounds up all the ghosts in her room and invites them to pick up a weapon and have at her. The spirits initially hesitate to murder dear Liz. After all, they've grown quite fond of her. (Who hasn't?) Sally helps them understand that this isn't murder, it's rebirth. Liz will live eternal in the hotel, just like them.
Before they can end Liz as we know her, Gaga enters dramatically. She and Liz have a sweet reunion. There's no anger, no resentment. Gaga calls Liz her fondest creation, and she wants to help her transition one last time. Then, she gingerly lays Liz backward and gives her one simple, elegant swipe with a razor finger, killing her. It's one of the sweetest murders I've ever seen.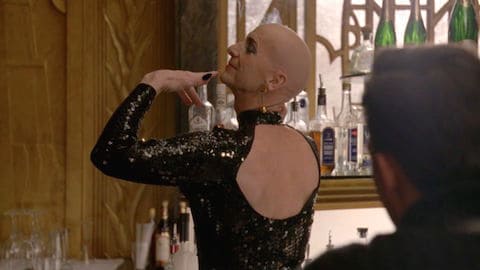 Then, Tristan appears. It's just he and Liz in the room. The model explains that he didn't hate Liz; he loved her. That's why he didn't come through to her. He knew she had more living to do. The two kiss, and it's so, so sweet and I'M NOT CRYING, YOU'RE CRYING.
Flash forward and Billie Dean has made the Cortez a cornerstone of her brand. She's done multiple specials at the haunted hotel, attracting hordes of ghosthumpers. The year is now 2022, and Iris knows it's bad for business to keep up this kind of reputation.
It just happens to be Devil's Night and a solution just arrived. Remember John Lowe (Wes Bentley)? He's back, and Iris sure is happy to see him. He's got an idea to shake Billie Dean off the Cortez. Permanently.
Lowe is Billie's white whale, so Iris gets her to the hotel for an exclusive sit down. Via their interview, we learn whatever happened to the Lowe clan. Life outside the hotel was hard on them. They realized the only place they could really pull off being eternal bloodsuckers and a wanted serial killer was at the Cortez. So they shipped Scarlett (Shree Crooks) off to Thatcher School in Ojai (where Liz also sent Will's son), and settled in.
Out on a food run for Alex (Chloe Sevigny) and Holden (Lennon Henry), John was cornered by police and killed. He tried to make it to the hotel, but fell short. Now, he can only visit on Devil's Night.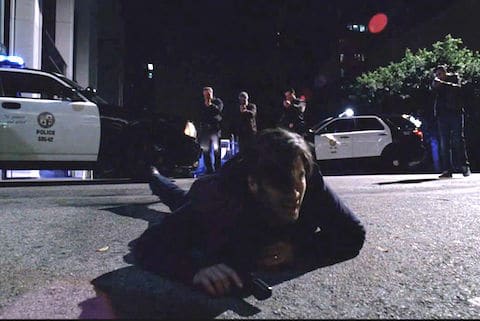 Which brings us back to 2022 and Billie Dean. He convinces the psychic to send her crew home. Then he takes her to March's usual Devil's Night gathering, complete with Aileen Wuornos (Lily Rabe), John Wayne Gacy (John Carroll Lynch), Richard Ramirez (Anthony Ruivivar) and Jeffrey Dahmer (Seth Gabel). Billie is shaken, but intrigued. She claims she can use the white light to protect her. John hands her a glass of absinthe, and, even though she is in a room with the spirits of some of the most dangerous people to ever walk the Earth, she's like SURE. LET'S DRINK ABSINTHE. Predictably, she starts to stagger and lose control. They push her in the chair and threaten her to stop fussing over the Cortez. She thinks she's got them figured out, though. She correctly asserts they can't leave the premises, so how would they stop her? Enter Ramona, who sends a terrified Billie racing out the door.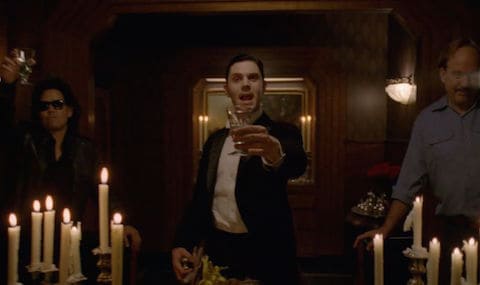 John leaves the murder party early and enters his room where Alex and Holden are asleep waiting for him in bed. Also there is an older and surprisingly well-adjusted Scarlett. It's the one night a year they can all be together. I guess that's sort of sweet?
Meanwhile, in the bar, Gaga is chatting up a handsome stranger with a jawline for days — just her type.
And that's it!
As much as I enjoyed tonight's episode, and I did enjoy it a lot, it exposed some of the flaws of this season. There were so many unnecessary backstories and diversions! Why did we need Rudy Valentino? Did fleshing out Sally's or Ramona's backstories really add that much? Why bother with the vamp kids and the measles? In fact, did we really need the vampires at all? A stylish, art deco hotel that was secretly a haunted murder playground is already pretty interesting!
There's still one unresolved plot point that is troubling me: What was the drillbit-brandishing addiction demon? Was he a ghost? A vampire? Something else entirely? We may never know!
Tonight also showcased the series' true MVP: Denis O'Hare's Liz Taylor. What a marvelous, unique and moving performance. If anyone deserves to have statues heaped on them for this season of American Horror Story, it's O'Hare. Another stand-out was Evan Peters, whose James Patrick March was far removed from his typical heartthrob role, and it was a total pleasure watching him relish the opportunity to stretch here.
Now, Ryan Murphy likes to drop hints for his next season in the prior installment. Let's start speculating about American Horror Story season six! Something that struck me as a little obtuse in this episode were the two references to the Thatcher School, a real-life boarding school. A boarding school would be a little too close to what he's doing with Scream Queens, so I doubt that's what Murphy is telling us. Notably, Howard Hughes attended Thatcher, which is another nod to the reclusive icon in this episode. Even-numbered seasons of AHS tend to be period pieces, so perhaps they will tell a story inspired by Hughes. Even that seems a little close to March and some other touchpoints we covered at the Cortez, so maybe American Horror Story season six will go even further back. The Thatcher School was founded in 1889 in Ojai, California after Sherman Day Thatcher moved there to give his brother "fresh air" to treat his tuberculosis. Maybe a frontier/prospectors-themed horror story in mines or on ranches? Who knows!
Leave your thoughts on the finale, assessments on this season and theories on season six in the comments!