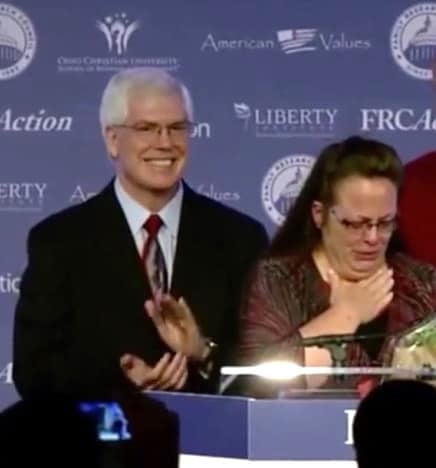 Kim Davis will be attending the State of the Union Tuesday as a guest of the Family Research Council.
Also in attendance with Davis will be her attorney Mat Staver of the anti-gay group The Liberty Counsel. Staver has been Davis' mouthpiece as she has battled against her legal obligation to marry same-sex couples in the wake of the Supreme Court's ruling in Obergefell v. Hodges.
The Washington Examiner broke the news of Davis' impending SOTU attendance, describing it as a move intended by conservatives to 'rebuff' "President Obama's effort to stack the audience with those who support his causes."
One of those guests meant to "stack the audience" Tuesday night is none other than SCOTUS plaintiff Jim Obergefell, who will be sitting in the First Lady's box as a personal guest of the President. (Let's see if he happens to bump into Davis in the hallways.)
It's not yet clear which member of Congress lobbied for seats on behalf of the Family Research Council who then in turn guaranteed seats for Davis and Staver.
Happening Monday night, Family Research Council President Tony Perkins makes his "State of the Family" address in which he will reportedly praise Davis for her stalwart approach to equal rights. Advance copy of Perkins' speech reads,
While the marriage decision was a devastating principled loss for us all, it was a very personal loss for Kentucky Clerk of Court, Kim Davis. Clerk Davis became the face of the opposition when she refused to sanction same-sex marriages by allowing her name to appear on marriage licenses. Kim stood strong to the point of spending time in the local jail until our friends at Liberty Counsel successfully argued for her release.
She has since received a religious accommodation by an Executive Order from the newly elected Governor, Matt Bevin, who by the way, made religious liberty a central theme for his successful campaign for governor. Kim stood up courageously against the power of the state and the ACLU and she, along with religious liberty in Kentucky prevailed! Well done, Kim. We are glad you are with us tonight.
Tuesday night's State of the Union address will be President Obama's last before leaving office next January.