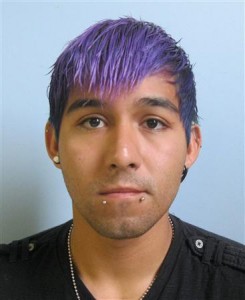 A 25-year-old Austin man is charged with sexually assaulting a teenage boy he met at an Austin nonprofit serving LGBTQ youth.
Both the suspect, Ever Jose Medrano (right), and the victim were clients of the agency, Out Youth, when they met in November 2011. Medrano, a registered sex offender, was 20 at the time, and the victim was 14, according to KEYE-TV.
The victim, who reported the crimes in November 2015, told police Medrano became his mentor and sexually assaulted him over a period of three years. Medrano is charged with sexual assault of a child, a second-degree felony punishable by up to 20 years in prison.
In a statement addressing Medrano's arrest, Out Youth Executiver Director Aubrey Wilkerson wrote in an email Saturday:
Friday we learned of a police affidavit involving two former youth believed to have met at Out Youth several years ago. The older former client is accused of molesting the younger former client. Because there is an on-going criminal investigation, we cannot discuss the matter further.
However, we want to make three things clear:
• First, the two persons involved in this matter may have met at Out Youth, but the one under investigation was never an employee, staff member, or volunteer at Out Youth. According to the police affidavit, the accuser reportedly told police that he thought of the person under investigation as his "mentor." Out Youth does not have a mentor program or assign mentors to our youth.
• Second, none of the alleged incidents under investigation occurred on Out Youth property.
• Third, Out Youth is cooperating with police and always will — especially when it comes to the well-being of our youth. Out Youth takes nothing more seriously than the safety and protection of the youth we serve. We work tirelessly to provide a safe place where our youth can be themselves and express themselves freely without fear or intimidation. We strive to be a safe haven for LGBTQ youth in our community each and every day.
According to an arrest affidavit, Medrano began spending the night at the victim's house and sleeping on the couch or in his bedroom. Their relationship became sexual after a game of Truth or Dare, according to the victim. Medrano initially told police that although he slept with the victim, they only "spooned," but he later admitted to sexual contact.
In 2009, Medrano was convicted of aggravated sexually assault of a 7-year-old boy, KXAN-TV reports.
This is a tough situation for Out Youth, which celebrated its 25th anniversary last year and, like most LGBTQ youth services agencies, does important work with limited resources. That being said, I don't know what Out Youth could have done to prevent this, short of conducting criminal background checks on every client who's ever walked through the door to any of the agency's programs. Out Youth serves people ages 12-22. (It's worth noting that in Texas, sex is considered consensual if the younger person is 14 or older and the older person is within three years of their age. Otherwise, the age of consent is 17.)
In any case, right-wing groups will undoubtedly use Medrano's arrest to support their longstanding claim that gay men are more likely to be pedophiles, even though social scientists have thoroughly debunked it.