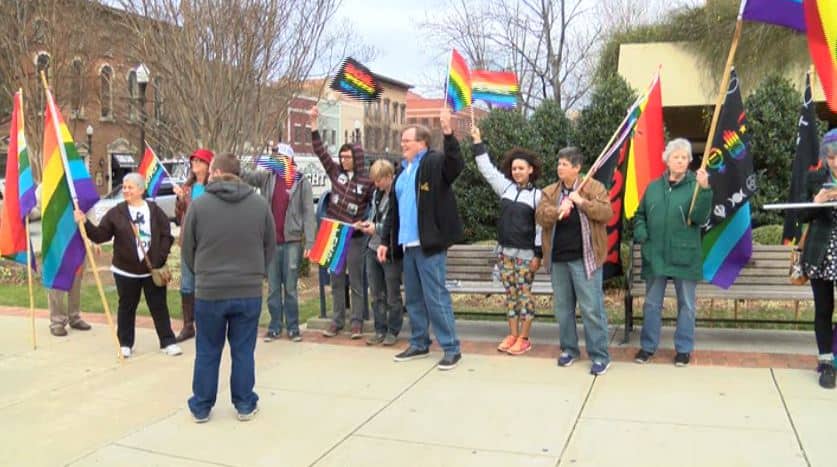 A group of marriage equality activists assembled outside the Madison County Courthouse in Huntsville, Alabama on Wednesday to protest the state's Chief Justice ordering all probate judges to ignore the U.S. Supreme Court's ruling that legalized gay marriage nationwide.
As we reported earlier, Judge Roy Moore's order reads,
Until further decision by the Alabama Supreme Court, the existing orders of the Alabama Supreme Court that Alabama probate judges have a ministerial duty not to issue any marriage license contrary to the Alabama Sanctity of Marriage Amendment or the Alabama Marriage Protection Act remain in full force and effect.
The protestors in Madison had good cause to be upset given that the probate judge there stopped issuing licenses to same-sex couples as a result of Moore's order.
"There's nothing to say to it – he's crazy," said Cassidy Lamb, who said she was in disbelief that the issue came up months after the U.S. Supreme Court legalized same-sex marriage last summer.
"This is long settled. I'm happy to see all these people, but I did not think I'd have to be back down here yelling and shouting and waving a flag about this, not even a year since we were marrying people in that park. It's absurd," said Lamb.
At least one same-sex couple attempted to obtain a license this afternoon. Their information was taken by the Madison County Probate Office, but they were not issued a license, pending a review of Moore's order.
Protesters say the decision is simple, and the issue already decided. That's why they want marriage licenses issued to all couples immediately.
"The law is the Supreme Court. They need to follow the Supreme Court's ruling," said Lamb.
The protests were live-streamed earlier in the day and gay marriage supporters could be heard chanting, "love already won."
Currently, three Alabama counties have halted issuing marriage licenses in the wake of Moore's order. Here's a more detailed breakdown from WAFF:
Madison County – A representative from the Probate Judge's office said that at this time, same-sex couples may still apply for licenses, but the court is not issuing licenses to same-sex couples until the county attorney tells them otherwise.
Limestone County: As of 2 p.m. Jan. 6, marriage licenses were still being issued.
DeKalb County is still issuing and accepting applications for licenses.
Lawrence County is not issuing or accepting applications for any couples.
Marshall County – No changes at this time; waiting on county attorney for further instructions.
Lauderdale County – Still issuing and accepting applications for all couples.
Morgan County – Probate judge is reviewing the order, but at this time, licenses are being issued to all couples.
Franklin County – Licenses being issued to all couples.
Cullman County – Probate office has made no changes, they have not had a chance to look at the order.
Colbert County – Issuing all licenses at this time; judge is reviewing the order.
Jackson County – Not issuing any licenses
According to a tweet from the Southern Poverty Law Center, retweeting 'Equality Case Files,' only one county, Mobile County, had stopped issuing licenses as a result of Moore's order.
Watch news reports on the protests and Moore's decision from WAFF, below:
WAFF-TV: News, Weather and Sports for Huntsville, AL