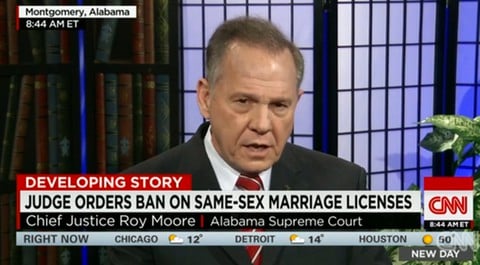 Alabama Chief Justice Roy Moore has issued an order prohibiting probate judges from issuing marriage licenses to gay couples.
In his order, Moore cites the U.S. Supreme Court's Obergefell ruling which legalized same-sex marriage in all 50 states. Moore claims that the high court's ruling only applies to Michigan, Kentucky, Ohio and Tennessee, the states directly involved in Obergefell.
AL.com reports:
Moore said he issued the order today in his role as administrative head of the state court system. He quoted a state law that says the chief justice is empowered to "take affirmative and appropriate action to correct or alleviate any condition or situation adversely affecting the administration of justice within the state."
Moore wrote that since the U.S. Supreme Court ruling that many Alabama probate judges are issuing marriage licenses to same-sex couples, while others are issuing licenses only to opposite-sex couples or not issuing licenses at all.
"This disparity affects the administration of justice in this state," he wrote.
Note this is NOT AL Supreme Court order, but issued in Moore's capacity as "Administrative Head of the Unified Judicial System of Alabama"

— Equality Case Files (@EQCF) January 6, 2016
Writes Moore in the order:
It is ordered and directed that: 
Until further decision by the Alabama Supreme Court, the existing orders of the Alabama Supreme Court that Alabama probate judges have a ministerial duty not to issue any marriage license contrary to the Alabama Sanctity of Marriage Amendment or the Alabama Marriage Protection Act remain in full force and effect.
The order: Courtesy of Equality Case Files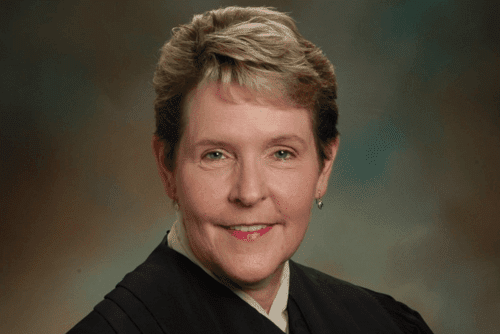 Back in July, U.S. District Judge Callie Granade, whom you may recall struck down the state's gay marriage ban as unconstitutional, ordered that her decision was binding because of the Supreme Court's ruling and said that probate judges must issue marriage licenses to same-sex couples.
Probate judges who follow Moore's order today could be held in contempt of court.
Developing…
UPDATE: Montgomery County probate judge Steven L Reed calls Moore's action "sad & pathetic":
Judge Moore's latest charade is just sad & pathetic. My office will ignore him & this. #alpolitics https://t.co/IAtLLoRwlX

— Steven L Reed (@stevenlouisreed) January 6, 2016
UPDATE II: Mobile County has stopped issuing all marriage licenses (see sidebar here).
UPDATE III: The ACLU weighs in.
CONT'D: Fed. court order from July 1, 2015 already confirms #Obergefell decision binds AL probate judges statewide pic.twitter.com/HqQGY0OMdb

— ACLU (@ACLU) January 6, 2016