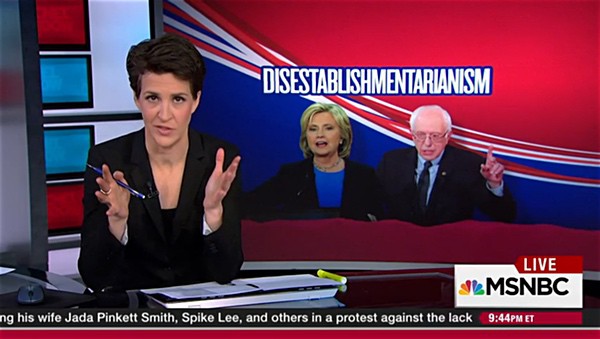 Earlier this week, Hillary Clinton was endorsed by the Human Rights Campaign in a very early move. After the endorsement, Bernie Sanders made some remarks that Clinton had been endorsed by HRC (and Planned Parenthood) because they are part of the political establishment, which caused a lot of fuss.
Said Senator Sanders to Rachel Maddow on Tuesday:
What we are doing in this campaign, it just blows my mind every day. Because I see it clearly: we're taking on not only Wall Street and the economic establishment, we're taking on the political establishment. So, I have friends and supporters in the Human Rights Fund and Planned Parenthood. But you know what? Hillary Clinton has been around for a very, very long time. Some of these groups are, in fact, part of the establishment.
In speaking of the endorsements, Sanders mislabeled the Human Rights Campaign as the Human Rights Fund (which he did again in last night's interview with Maddow).
Clinton, HRC, and Planned Parenthood all responded with tweets objecting to Sanders characterization of them as "establishment."
On last night's Rachel Maddow show, Rachel sent Kasie Hunt to obtain a clarification from Sanders.
He said:
"That's not what I meant. The question was the endorsement. I am a very very strong supporter of Planned Parenthood. I think they are doing a fantastic job under very difficult circumstances. Very strong supporter of NARAL. Strong supporter of the Human Rights Fund and I  think I have a hundred percent voting record for all these organizations. What I said in response to a question about endorsement – what I meant to say anyhow – is that sometimes the grassroots are asking 'how does it happen if somebody has 100 percent voting record in support of your issue and doesn't get endorsed?' And that sometimes the leadership of an organization may look at the world a little differently than the grass roots."
He added:
"But in terms of those organizations, I know that we're a week out in the election and the Clinton people try to spin these things. I am a fierce supporter of Planned Parenthood, NARAL, and gay rights in this country…"
Asked Hunt: "And they're not part of the establishment?"
Replied Sanders: "No. They are standing up and fighting the important fights that have to be fought."
Watch:
Meanwhile, there is a Change.org petition calling for HRC to revoke its endorsement of Clinton which has more than 8,000 signatures.