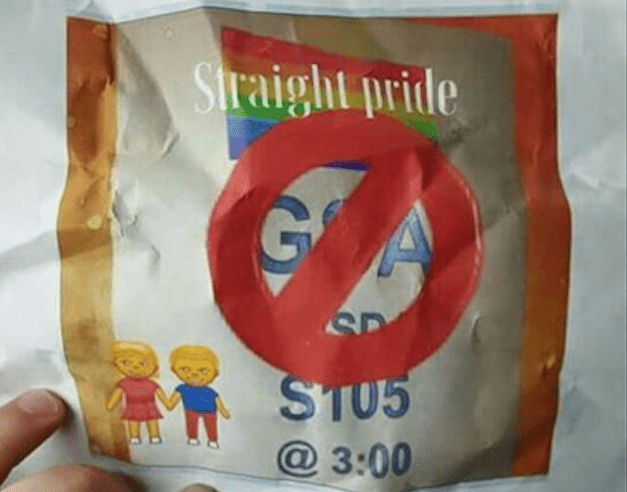 Students at a rural Tennessee high school reportedly wore "straight pride" signs last week to protest a newly founded chapter of the Gay Straight Alliance.
This was after one parent and local business owner compared the GSA at Franklin County High School in Winchester, Tennessee, to the terror group ISIS.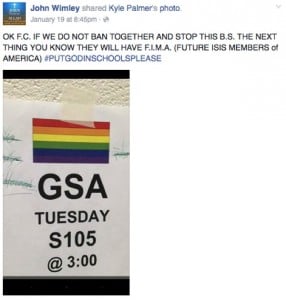 News of the GSA's first meeting on Jan. 19 ignited a social media firestorm in the town of 8,500 about 70 miles northwest of Chattanooga, The New Civil Rights Movement reports. Parent and business owner John Wimley launched a Facebook page calling for people to attend the next school board meeting and "protect traditional marriage" by standing against the GSA.
"OK F.C. [Franklin County] if we do not ban [SIC] together and stop this B.S. the next thing you know they will have a F.I.M.A. (Future ISIS Members of America) #PutGodInSchoolsPlease," Wimley wrote (right).
In response to Wimley's comments, supporters of the GSA launched a Facebook page calling for a boycott of his business, the Tennessee Car Care Center.
On Friday, one supporter of the GSA reported that some students were wearing "straight pride" signs like the one above after being told to remove them from the walls. Students opposed to the GSA had also defaced posters advertising the club's meetings, scrawling "no gays allowed" and "faggots" on the one shared by Wimley.
On its website, Franklin County High School explains that under the federal Equal Access Act, it was required to allow the GSA if it allows other extracurricular clubs.
Although the GSA faces plenty of opposition locally, it has also received support from across the globe, including Australia, Canada and Wales.
"We are incredibly grateful for this extraordinary showing of love and support for our LGBT community here in rural TN," the club's faculty advisor wrote. "We never imagined that the love in the world for us was this strong. Thank you for walking with us on our journey."
A Facebook page supporting the GSA had more than 1,600 followers by Monday.
Watch a report on the controversy from WBRC-TV below.