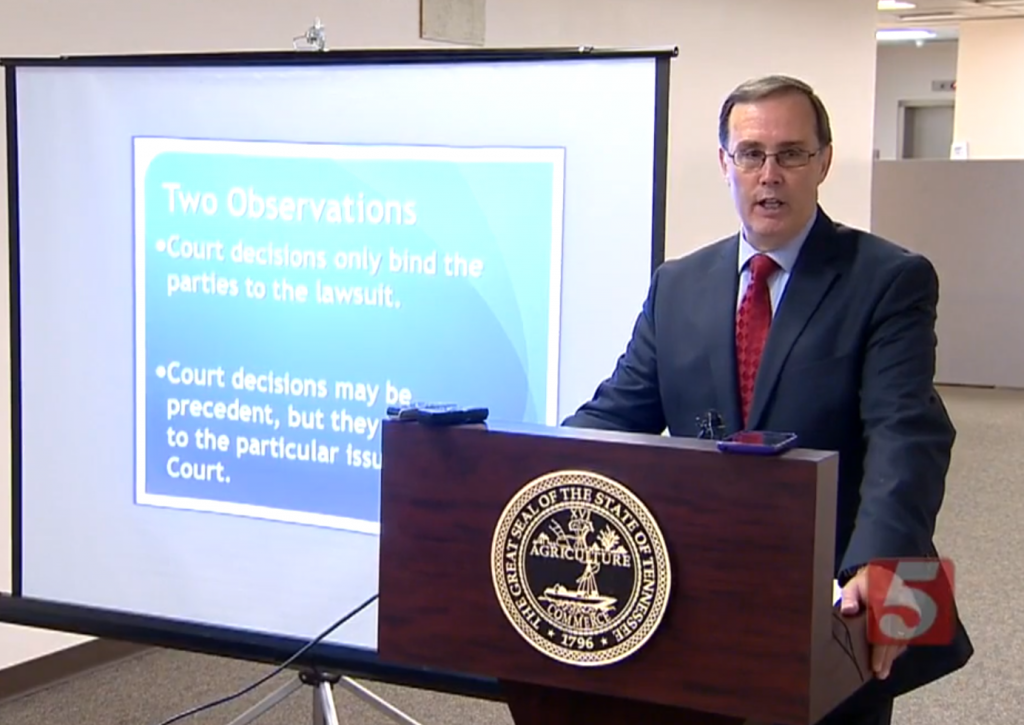 If only Southern states had pursued David Fowler's legal strategy in the 1950s, he says, they could have avoided complying with the U.S. Supreme Court's ruling desegregating public schools in Brown v. Board of Education.
Fowler, a former Republican state senator who now heads the Family Action Council — Tennessee's arm of the Family Research Council — filed a lawsuit Thursday seeking to block the Williamson County clerk from issuing marriage licenses.
Fowler's lawsuit rests on his theory that because the U.S. Supreme Court struck down Tennessee's same-sex marriage ban in Obergefell v. Hodges, the state's entire marriage statute is invalid, so no one can get married in Tennessee unless and until the Legislature passes a new one.
According to Nashville Scene, here's how Fowler explained the strategy during a press conference Thursday:
"Let me just address this question in case anybody has it. Isn't Brown v. Board of Education a case where the Supreme Court said you must do something and we all did it?
"The answer is, sorta no. Think about what Brown v. Board of Education was about. The states had public school systems. They then had laws on top of that system that said blacks go here, whites go here. The Supreme Court said, you know we've allowed that but we've changed our mind. So you can't do that.
"What the Supreme Court did not say in Brown v. Board of Education was you must have a government-funded school system. …
"If Arkansas had wanted to, it could have said well nothing forces us to have a government-funded school system. There is no constitutional right in Arkansas to a government-funded education. So we're just going to repeal all the statutes creating a school system. We're going to lower your taxes. You can get into educational coops, homeschool, go to your church, go to your synagogue, do it the way we did it in the 1800s. And the Supreme Court could not have forced them to create a school system. How would they do it?"
More from The Tennessean:
The legal action comes one day after a House subcommittee voted to reject the Tennessee Natural Marriage Defense Act, a bill sponsored by state Rep. Mark Pody, R-Lebanon, which would have required state officials to disobey the U.S. Supreme Court ruling legalizing same-sex marriage. …
Fowler said he is prepared to take the lawsuit as far as it will go, even if the state's courts don't side with him. Ultimately, he said, he is willing to take it to the U.S. Supreme Court. When asked why he thinks the high court would make a different decision, Fowler said, "Because by the time we get there I hope some of them will have wakened up from their imperial slumber."
Here's how Tennessee Democratic Party chair Mary Mancini reacted to the lawsuit:
"One ­step forward and two ­steps back seems to be the new normal for civil rights in Tennessee. The lawsuit filed in Williamson County by the Tennessee Family Action Council and former Republican State Senator David Fowler is an affront to our values of equality under the law. But more unimaginable is his belief that we should have dismantled public education in Tennessee rather than integrate our school after Brown v. Board of Education. It's time for every Republican to denounce this lawsuit and their former colleague's deplorable statements about public school integration."
Apparently, some Republicans aren't exactly heeding Mancini's call. On the contrary, GOP state Rep. Susan Lynn has filed a resolution in support of Fowler's lawsuit.
"I have dozens of sponsors, and the message of my resolution is clear," Lynn said, according to The Lebanon Democrat. "We as a state have been violated, and we expect the doctrine of separation of powers and the principles of federalism reflected in our Constitution to be upheld."
Watch a report on Fowler's lawsuit from Nashville's Channel 5 below.