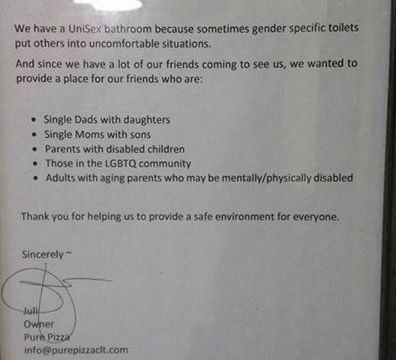 A pizza restaurant in North Carolina is receiving lots of positive feedback on social media for posting a notice explaining why they chose to offer customers a unisex bathroom.
The note reads in part: "We have a UniSex bathroom because sometimes gender specific toilets put others into uncomfortable situations." It's signed by the owner of Pure Pizza, Juli Metcalf Ghazi. An image of the sign was shared on social media over the weekend. It's garnered almost 1,000 likes on Facebook and nearly 200 shares.
The note mentions that the restaurant wanted to provide a place for its friends who are members of the LGBTQ community.
"The truth is, there are so many times when a unisex bathroom is needed," Ghazi told Today.com. "Single mothers with sons, transgender men and women … there are so many different scenarios when a family bathroom is needed."
She described a specific instance in which a single mother was moved to tears by the sign because she was so welcome to comfortably accompany her disabled teenage son into the restroom.
"I simply wanted to use my small voice to make a difference," Ghazi said. "And I hope that's what I've done."