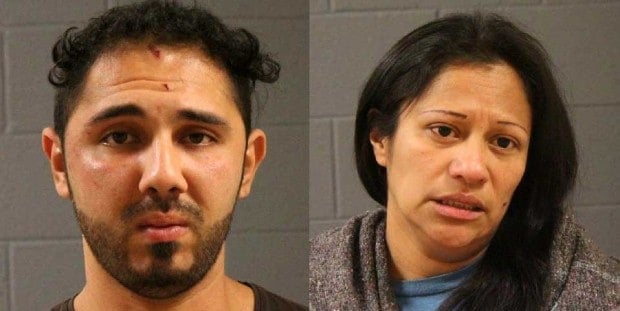 After unbuttoning his pants and partially exposing himself, a Utah man repeatedly yelled at his victim to perform oral sex on him during a brutal anti-gay hate crime in December, according to reports.
Mohamed Fathi Oanaw (above left), 23, later told police he assaulted the victim on two separate occasions because he's Muslim and "hates gay boys."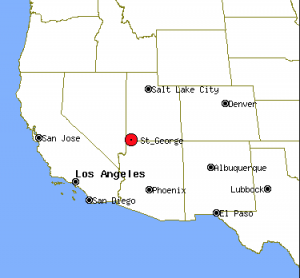 Oanaw and his wife, 38-year-old Mayra Dinora Casas (above right), were arrested Dec. 12 and face felony robbery and other charges in connection with the incident in St. George, Utah, which police have classified as a hate crime.
Oanaw first assaulted the victim on Dec. 11 during a gathering at a third party's residence where they were drinking, but the gay man declined to press charges. The following day, Casas lured the victim back to the residence to collect his belongings and "talk about last night," saying it was "safe" because Oanaw wasn't there.
However, when the victim and his female friend arrived, Oanaw surprised them by charging out of a bedroom, according to reports from Q Salt Lake and The St. George Spectrum.
"[Oanaw] punched [the victim] and knocked him back towards the kitchen while continuing to scream sexual slurs at him," a police report states. "[Oanaw] grabbed a chair to swing at [the victim], but it was taken from him by [the woman who lives at the residence]. [Casas] was present and yelled slurs at [the victim] while yelling for [Oanaw] to 'get the fag.'"
The report then states Oanaw allegedly unbuttoned his pants and partially exposed himself while repeatedly yelling at the gay man to perform a sex act on him, according to Q Salt Lake. The victim pushed past Oanaw to escape down the hall, but Oanaw grabbed him and began punching and kicking him.
Oanaw also took the victim's $800 smart phone and shattered the screen before Casas broke it in half. When the victim's friend tried to call police, Casas took her phone and wallet. Finally, the woman who lives at the residence was able to call 911.
"When I arrived on scene, Mayra stated repeatedly that [Oanaw] was mad about 'gay sh-t' and that [the victim] was a 'faggot' who wanted to 'f–k my husband,'" the arresting officer wrote. "Mohamed kept stating he hated 'gay boys' and that he was Muslim."
After being read his Miranda rights, Oanaw admitted to yelling sexual slurs, starting the physical fight, exposing himself and breaking the man's smartphone.
Oanaw was charged with second-degree felony robbery and three class-A misdemeanors for lewdness, assault and criminal mischief. He was released on $13,900 bond.
Casas was charged with second-degree felony robbery, third-degree felony unlawful acquisition of a finance card, four class-A misdemeanors for assault, criminal mischief, theft and possession of another's identifying documents, and a class-B misdemeanor for damaging a communication device. She reportedly remains in custody, with a court date set for Jan. 25.
The Spectrum notes that couple could face federal hate crime charges.