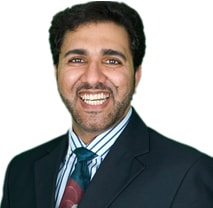 A Washington, DC dentist has been charged with sexually assaulting a male patient whom he sedated to remove a tooth.
Bilal Ahmed, who is married to a woman and is a father of six children, reportedly confessed to forcing oral sex on his patient when the two met up for lunch as part of an undercover police operation intended to catch Ahmen admitting to the assault.
Bilal Ahmed was arrested by New York authorities Jan. 7 at John F. Kennedy International Airport after deplaning a flight from Pakistan. Ahmed, 43, of Rockville, Md., was released after posting $50,000 bail in New York to return to the District for his first court appearance.
In court records, prosecutors say the alleged offense occurred May 21, 2014, at Ahmed's practice, Universal Smiles, at 2311 M St. NW. According to documents, the man went to Ahmed's practice for a cracked tooth. Ahmed told the patient that the tooth had to be extracted and that he had to use nitrous oxide, commonly known as laughing gas, to sedate the patient during the procedure. […]
The patient said he woke to find his mask askew and the dentist forcing him into oral sex, according to the court papers. Ahmed then escorted the patient back to the recovery room, the papers said, and the man left Ahmed's practice two hours later.
After contacting police, the patient called Ahmed six days later in a recorded phone call arranged by a detective. During the call, Ahmed asked the patient how he was feeling. The two spoke about meeting for lunch. The patient, with two officers listening, described what he remembered happening. "You know I'm not crazy," the patient told Ahmed. "No, not crazy," Ahmed responded, according to the documents.
At one point, the dentist laughed and said hallucinations can happen when using nitrous oxide, the documents say. At another point, when the patient asked whether he had been hallucinating at the time of the alleged incident, Ahmed said, "No."
Ahmed faces his next hearing on February 17. He has been ordered not to practice dentistry while he is free on bail.