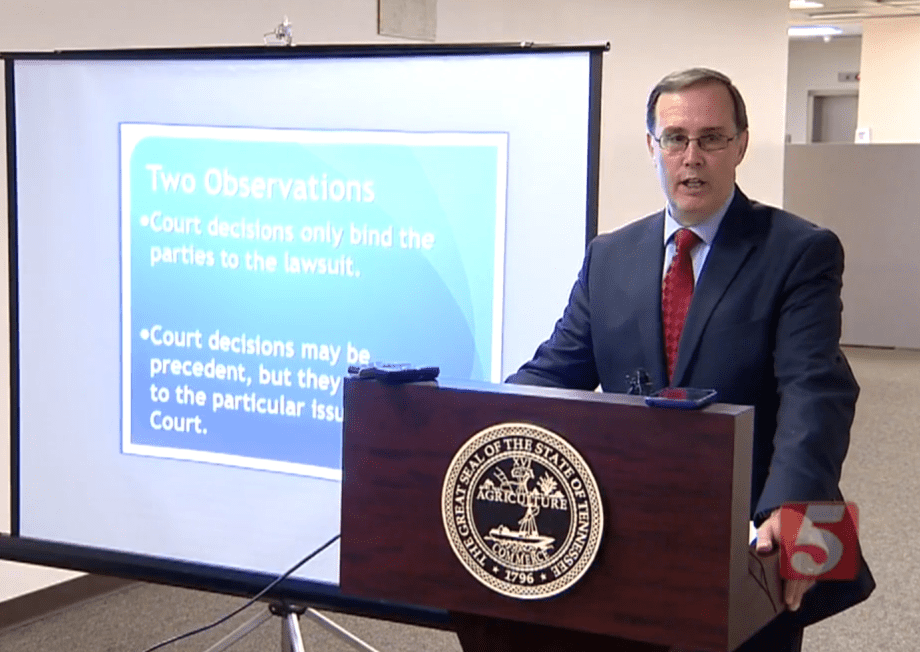 A former Republican state senator in Tennessee has filed his second lawsuit in two months to try and block same-sex couples from marrying in The Volunteer State.
David Fowler, head of the Family Action Council, Tennessee's arm of the Family Research Council, is once again arguing that because the Supreme Court invalidated marriage laws that ban same-sex marriage, as Tennessee's did, couples in Tennessee (be they same-sex or opposite-sex) cannot get married. He argues that the Supreme Court's ruling invalidated all of Tennessee's marriage laws, not just the portions which the Court found discriminatory and unconstitutional. Fowler tried this line of reasoning last month in Williamson County. Having been defeated there, it seems he figured he'd try his luck in Bradley County.
The suit was filed Thursday in Bradley County Circuit Court by attorney and conservative former state senator David Fowler, with the Constitutional Government Defense Fund.
It's the second lawsuit Fowler has filed in less than a month challenging Tennessee's marriage laws in the wake of the Supreme Court ruling in June. The legal director for the American Civil Liberties Union of Tennessee, Thomas H. Castelli, said the suits "are just another attempt to get around the Supreme Court's ruling that the freedom to marry is a fundamental right."
According to the suit filed against County Clerk Donna Simpson, the high court's ruling last year invalidated state marriage laws that exclude same-sex couples, which Tennessee's explicitly does.
Since the Tennessee General Assembly has not adopted new laws, the suit states, no valid marriage licenses can be issued. Anyone who performs a marriage can't return a signed license to the county clerk, and failing to do so is a misdemeanor.
Fowler filed his lawsuit on behalf of Bradley County Commissioner Howard Thompson and a local pastor.