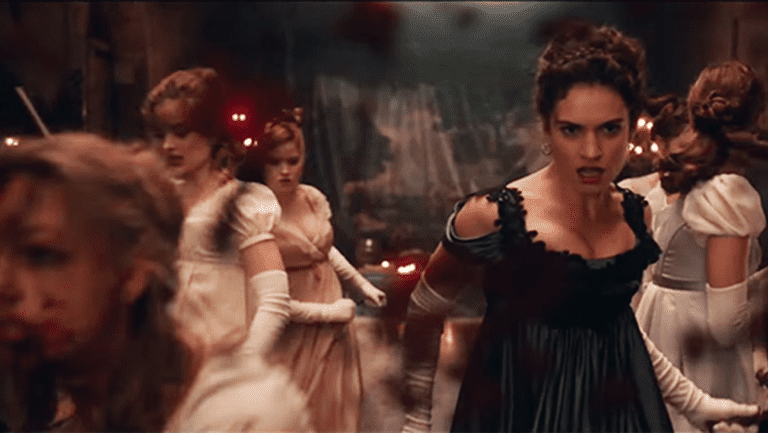 "Pride and Prejudice," Jane Austen's classic novel about the Bennet sisters and their suitors, has one of the most famous opening lines in all of literature.
It is a truth universally acknowledged, that a single man in possession of a good fortune, must be in want of a wife.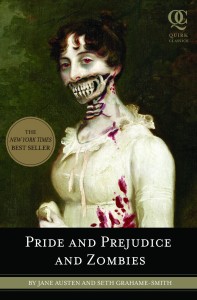 Pride and Prejudice and Zombies, an adaptation Jane never could have seen coming despite her gifts, twists the opening line so that we're no longer talking courtship but hunger; zombies in want of brains. So let's twist the line again. 'It is a truth universally acknowledged that pop culture, possessed by the love of fanfic, must be in want of works in the Public Domain!'
"Pride and Prejudice and Zombies" was an instant best-seller in 2009 thanks to its jawdropping title and cheeky-macabre cover. It essentially started rather than tried to catch the wave of popular mash-up novels. It sold to the movies quickly but Natalie Portman, the intended Elizabeth, bailed (she's credited as Executive Producer now). The novelist Seth Grahame-Smith followed his best-seller up with "Abraham Lincoln Vampire Hunter" which made the leap to the big screen swiftly. But the movie was godawful, never deciding if it was a campy action flick or a sober historical drama …with fangs. Worse, it was stupidly unaware that a laugh or three might be useful in selling its ridiculousness. Worst of all it exploited slavery like a prop to up its bloody supernatural horror.
There was every reason to be suspicious of Pride and Prejudice and Zombies, then, but those Bennet sisters have often been underestimated.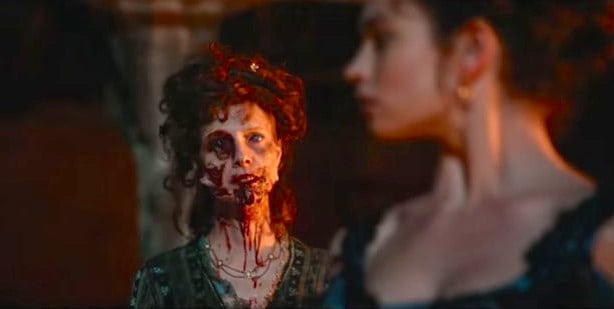 It helps enormously that Jane Austen's romantic and comic novels are surprisingly sturdy beasts, regularly prompting great adaptations (Sense & Sensibility), witty updates (Metropolitan, Clueless), ethnic riffs (Bride & Prejudice, From Prada to Nada) and serving as a skeleton for other classics, too (Bridget Jones's Diary). The source material comes ready with comic beats and frivolity if you only harness it.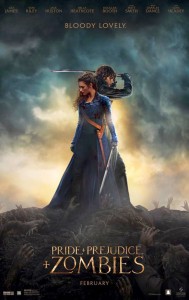 The prologue introduces the famously stiff Mr Darcy (Sam Riley, Control) at a society gathering he has to strip to attend (albeit with an unfortunately leering gay joke). No zombie bites? ☑️.
Unfortunately for the party, his clothes go back on and he's a mood-killing zombie hunter. The prologue ends with a grisly kill and though the scene is surprisingly tense, I worried; will this be a humorless slog?
The movie quickly settles into a confident mash-up groove, leaving ample room for Austen-lite repartee to play out over humorously incongruous visuals. An early scene has Elizabeth (Lily James, Cinderella) and Jane Bennet (Bella Heathcote, Dark Shadows) and their sisters lined up in a sitting room. In other adaptations, they'd be sewing or reading, but here they're sharpening blades and loading muskets as they banter about neighbors, future plans, and eligible bachelors.
Maybe it's a one-joke movie but the joke is funny. The humor doesn't wear out its welcome, either, because the screenplay (by Burr Steers, who is also the director) has figured out how to return to jokes without them feeling as lifeless as the walking dead. The most overtly comic reworkings are reserved for Parson Collins (Doctor Who's Matt Smith, hamming it up) who's a fussy treat and the Lady Catherine (Game of Throne's Lena Headey), Darcy's domineering aunt. In this bizarro alternate British Regency, Lady Catherine is not intimidating because she's wealthy, but because she's a legendary zombie slayer.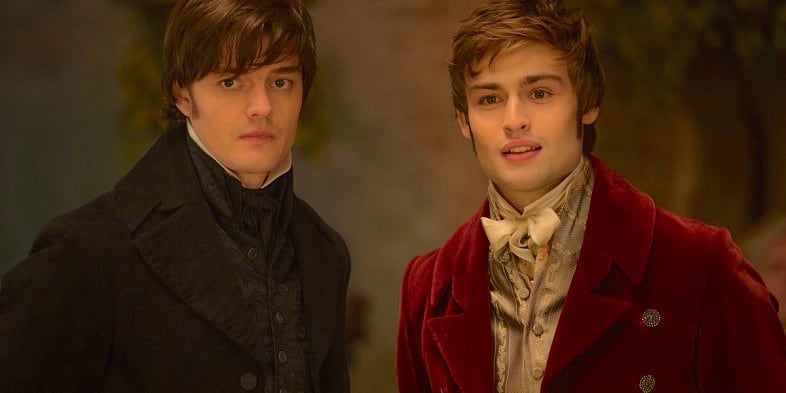 Though P&P&Z is uneven and could have used more visual wit than it gets — it's shot like a fairly standard underlit action-horror movie — it mostly works. You quickly realize that you've fallen in love with the characters just as you have in every other version of this story. In one scene the well meaning, handsome Bingley (Douglas Booth, Jupiter Ascending) falls into a room filled with zombies and you instantly worry he'll be bitten; the last body part you'd want his beautiful lips nibbling on is brains! In another sequence Elizabeth and Darcy's ill tempered banter erupts into actual fighting. When will these stubborn souls realize they're made for each other and kiss?
Unfortunately, like the undead, P&P&Z doesn't know when its time is up. Happily ever after is, as yet, out of reach with the movie begging for a sequel in its closing credits.
Nathaniel Rogers would live in the movie theater but for the poor internet reception. He blogs daily at the Film Experience. Follow him on Twitter @nathanielr.