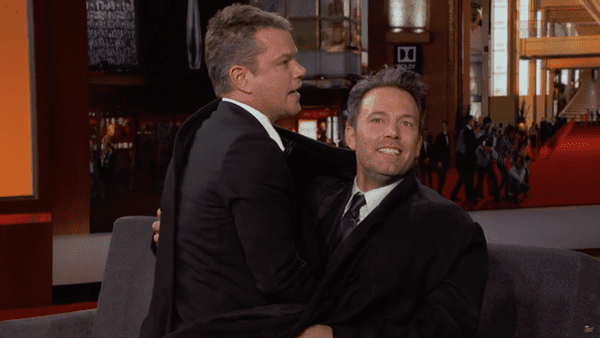 Jimmy Kimmel's 'feud' with Matt Damon reached new proportions on Sunday when Ben Affleck smuggled the actor onto Kimmel's post-Oscar special.
Affleck walked out on stage looking more like the Penguin than Batman, wearing a long black coat underneath which Damon was hiding.
When Kimmel finally started sniffing around Affleck's strangely moving rotundness, he tore open Affleck's coat to reveal Damon.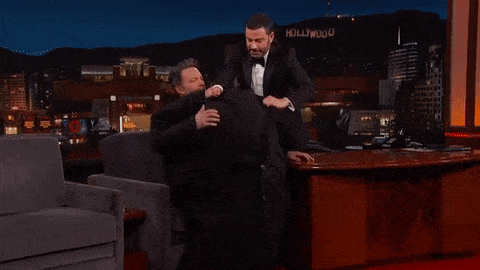 Kimmel was not exactly pleased with Affleck's stunt.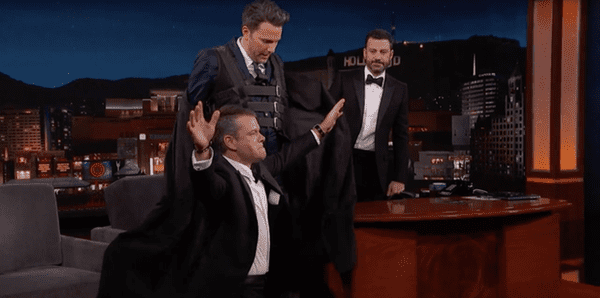 "You're ruining the Oscar show. No one wants you here," Kimmel said.
A little bit of background on the 'feud' between Damon and Kimmel via Today: 
When Kimmel made a 2012 Oscars parody called "Movie: The Movie," Damon's brief clip got cut, leading to his storming out of the studio. Then there's the infamous "I'm [expletive] Matt Damon" video created by Kimmel's ex-girlfriend Sarah Silverman from 2008, which probably didn't improve matters between the pair.
And in 2013, Damon took over the entire "Live" show and renamed it "Jimmy Kimmel Sucks," during which he held the host bound and gagged for most of the episode.
For years, Kimmel also ended his show by apologizing to Damon for running out of time to have him on. Last night's show ended with a more potent missive launched at Matt: "I would like to apologize to you sincerely for inadvertently allowing that loser Matt Damon to soil our show," Kimmel said.
Watch Matt Damon emerge from Ben Affleck's bosom, below.