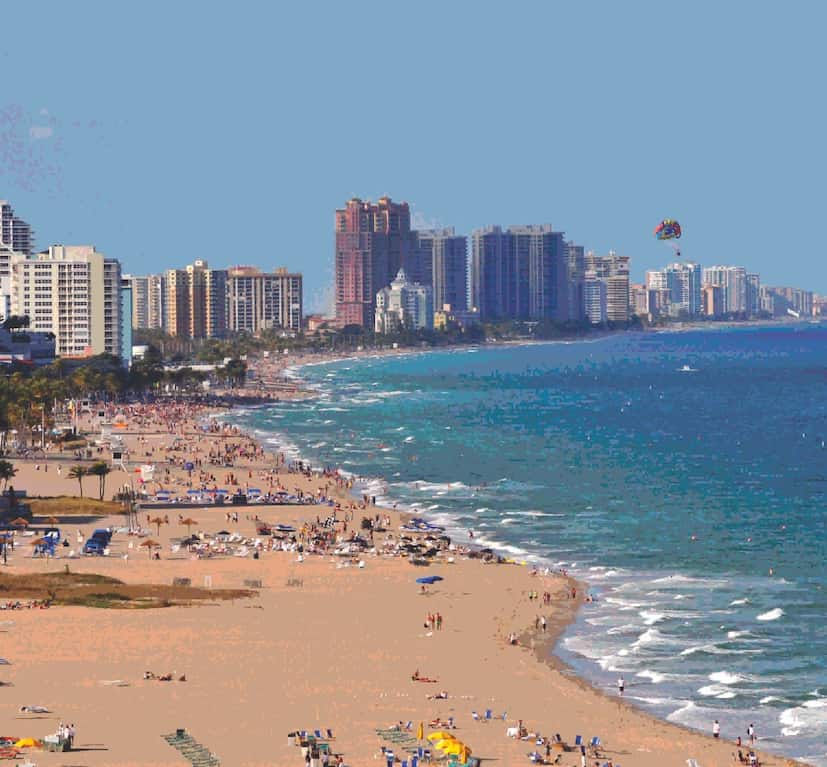 It's been a weird winter in the Northeast with a blizzard followed by oddly warm and muggy weather. What's a frisky gay fellow frustrated with the weather to do? Head to one of Ft. Lauderdale's top gay guesthouses. They're affordable, as are flights (well if you book at least a couple of weeks in advance … here are a few sample fares starting under $300 from New York in a couple of weeks.)
In the days when mainstream hotels didn't want two men renting rooms together, and gay men wanted more from their vacations than sideways glances and run-ins with sheer homophobia, there were all-male guesthouse retreats, where queer men were free to be themselves, often times in a low-key manner, and other times in a sexualized, I'm-buck-naked-in-the-breakfast-nook-and-I-don't-care kind of way. For two decades, we've watched guesthouses come and go, grow and change. While some have evolved into upscale accommodations, others have languished into skippable complacency. But for a true gay Fort Lauderdale experience, few places will offer more comfort, safety, and freedom to be as gay (and often, naked) as you want to be. Here are five of Ft. Lauderdale's top gay guesthouses we love. You'll find many  more in ManAboutWorld. Just download the free App now!
Pineapple Point
The most deluxe of the clothing-optional gay resorts, Pineapple Point remains the standard of gay guesthouses after more than a decade on top, retaining its blend of playful sex, aesthetic allure, and hospitable staff. The on-premise Grand Villa is possibly the best available room in the entire city: a gay-replica of a Real World house, three floors bursting with tropical colors, a full kitchen, one huge bedroom with a private deck and soaking hot tub; perfect for couples with some cash to burn (we're talking $500 a night), or for a group of friends looking for a crazy weekend. The grounds have a selection of other Key West-style bungalows, bicycles available for rent, two pools, and the best on-site gym of any of the guesthouses. Nespresso coffee in the office and lemonade and ice water are available by the pool all day long. The Victoria Park location, once popular with the gays, now feels a bit isolated, and a car or taxi is necessary to reach both the beach and Wilton Manors, and a GPS is useful for finding your way back!
The Grand Resort
The gay-owned and managed Grand does a masterful job of balancing the sexual temperature, managing to keep the on-site sexuality abuzz without allowing it to define the resort. The pool area is not clothing optional but the large spa is, allowing guests to choose just how au naturel (and naughty) they feel like being. The rooms are some of the largest in town, most designed like a straight-man's first apartment: a little generic and incongruous with the Fort Lauderdale beach vibe outside — but constant improvements keep raising the bar. The newly renovated one-bedroom patio suites are our favorites, featuring luxurious semi-private outdoor showers and sitting areas. We appreciated the gregarious and professional hosts, the reasonably-priced mini-bar (not your typical airport prices for a bag of M&Ms) and a terrific fitness facility with actual free weights. We also really liked the small but excellent day spa, offering a full range of services, including mani/pedis with a view to the spa deck. We can't guarantee all the guests will look like this model but here's a photo of the Grand: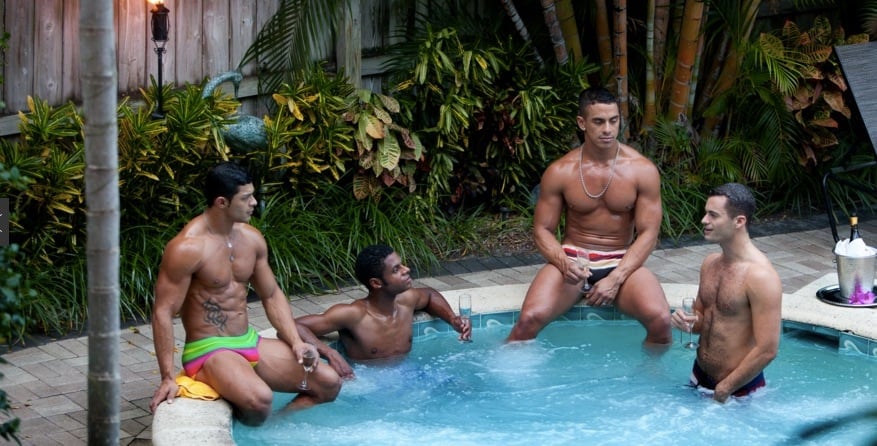 Lush Royale
There's a lot still to love about the guesthouse that set industry standards when it was the original Royal Palms. The clothing optional resort still boasts clean, spacious rooms with plenty of natural light, some modern technological touches, an impressive selection of bath amenities, meticulously manicured grounds, afternoon slushie drinks and customer-focused service. But we found too little had changed since it sat atop the gay guesthouse world, and now the palm tree décor feels more dated than tropical and the modern touches are limited. There's still an orchid floating in the toilet when your room has been serviced, but the Lush Royale will need some new tricks (and some new furnishings) to reclaim a top spot in our ratings. It recently expanded next door to the former Orton Terrace and there are 28 rooms total.
Island Sands Inn
The clean, very intimate Island Sands Inn is run by a young, friendly gay couple from up north, newly moved to Fort Lauderdale, and is as amenable as can be — even willing to drive you over to the beach if it's convenient (Stay there now before they turn jaded and bitter ;). The three newly-renovated rooms and two condo villas are clean and modern, with private entrances, plenty of space, a mini-bottle of wine upon entry, affordable snacks, flat-screen Samsungs, and even room service breakfast. (Condos have full kitchen and laundry as well.) Fairly priced and well-located within crawling distance to the Wilton Manors nightlife, it's a great option for travelers who don't need coddling or company, and who are turned off by the older furnishings in so many other guesthouses.
Grand Palm Plaza
This Intercoastal-adjacent property has finally come together with a full-on renovation that has restored the tropical garden feel (buh-bye astroturf) and replaced the drab motor lodge rooms with bright modern decor with purple and green accents. The hotel offers good value, and a nice sociability about it, with plenty of outdoor common space for guests to congregate, meet, and flirt, including a 2-man hammock and bbq area.. No gym (though guests have access to the nearby Royal Palms gym) and no spa, but friendly gay management, and some nice touches, like frozen grapes and cool face towels delivered by the clothing-optional pool. At a time when most smaller gay lodgings are disappearing, it's nice to see one up its game.
For even more information about Ft. Lauderdale hotels as well as gay travel inspiration and trip-planning information and suggestions for destinations, tours and events download ManAboutWorld's latest issue. Start planning your next trip now!
This weekly travel column is brought to you by ManAboutWorld, an immersive digital gay travel magazine for iOS and Android devices from Ed Salvato, Billy Kolber, Kenny Porpora, and nearly 75 Global Correspondents. For more recommendations from ManAboutWorld's global gay experts, download our App. There are FREE guides and a 10-issue-per-year subscription-based magazine.
Photos: Top: Ed and Eddie via Flickr Creative commons; Above: Courtesy the Grand.