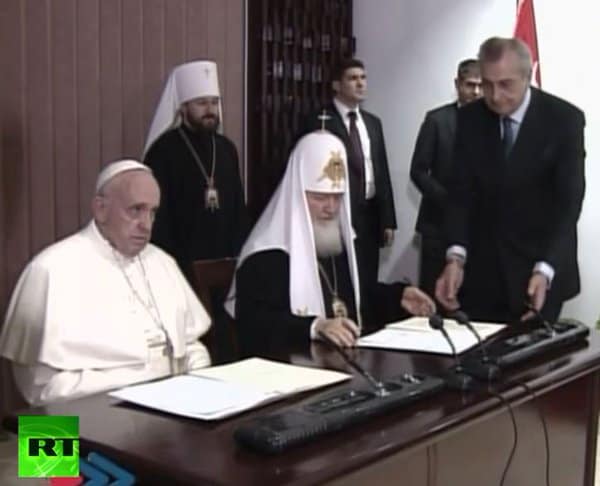 Pope Francis and Patriarch Kirill of the Russian Orthodox Church issued a joint statement on Friday denouncing same-sex marriage and expressing their "regret" that opposite-sex marriage is "being banished from the public conscience."
The two leaders issued the statement after a historic meeting in Cuba, marking the first time leaders from the Catholic and Orthodox churches have met in nearly 1,000 years.
After two years of secret planning, the clerics met in a wood-paneled room at the Jose Martin International Airport in Havana. They talked for about three hours, exchanged gifts and signed a joint declaration. Francis brought a relic of St. Cyril, the 5th century archbishop of Alexandria and Kirill brought a replica of the Madonna of Kazan icon.
They reiterated their opposition to gay marriage, biomedical reproduction technology and abortion.
"We call on all to respect the inalienable right to life," the declaration said. "Millions are denied the very right to be born into the world. The blood of the unborn cries out to God."
National Organization for Marriage (NOM) President Brian S. Brown, meanwhile, rejoiced at the announcement from the two religious leaders, posting on Twitter and sharing part of the joint announcement on Facebook.
Joint statement of Pope Francis and Patriarch Kirill includes strong statement in support of marriage. Check it out https://t.co/E4umU58WiC

— Brian Brown (@briansbrown) February 12, 2016
https://www.facebook.com/NationForMarriage/posts/1020451444693622?fref=nf
The rest of the statement can be read at Radio Vatican's website here.
The New York Times adds of the meeting between the pope and the patriarch:
The meeting was richly symbolic: Francis, leader of the world's 1.2 billion Roman Catholics, stood with Patriarch Kirill, leader of the largest church in the Eastern Orthodox world, with an estimated 150 million followers. But it was also about geopolitics, rivalries among Orthodox leaders and, analysts say, the maneuverings of President Vladimir V. Putin of Russia — who is closely aligned with the conservative Russian church.
For Francis, the meeting was an ecumenical and diplomatic coup that eluded his predecessors but that also opened him to criticism that his embrace of the Russian patriarch would indirectly give a boost to Mr. Putin as he wages a war in Syria and continues to meddle in Ukraine.
As for why the meeting took place in Cuba, of all places, the NYT says,
The Cuban setting was the result of months of negotiations, abetted by Mr. Castro. It met the demands of the Russian side for a "neutral" meeting place while dovetailing with Francis' trip to Mexico.
Watch a video on the meeting from the NYT, below.
[top image via Twitter]
[h/t JMG]