A new report from the Centers for Disease Control (CDC) finds that gay and bisexual men of color face a "strikingly high risk" of contracting HIV within their lifetime.
According to the report, 1 in 2 African American men who have sex with men (MSM) will be diagnosed with HIV in their lifetime compared to 1 in 4 Hispanic MSM and 1 in 11 white MSM. When compared to heterosexual white men, the contrast is even more striking. Only 1 in 2,500 white heterosexual males in the U.S. are predicted to be diagnosed with HIV during their lives.
The report provides an unusually vivid picture of what's been happening with HIV infections. The estimates were calculated from HIV diagnosis and death figures from 2009 through 2013.
New HIV infections have been falling in the United States, to about 40,000 annually. A disproportionately large share – about 10,000 cases – has been in gay and bisexual black men. That number has been holding steady while infections in other groups have fallen.
The lifetime risk of HIV has also has been declining. Several years ago, the CDC put that estimate at less than 1 in 78 for all Americans. It fell about 20 percent, to 1 in 99, and dropped for both men and women. That suggests prevention efforts are paying off, Mermin said.
Notably, the AP report incorrectly equates AIDS with HIV. The vast majority of Americans who are HIV positive have not been diagnosed as having AIDS.
The CDC report offers this explanation as to why the diagnosis rates seem to differ so dramatically based on race:
While studies have shown that African Americans do not engage in riskier sexual behavior compared to Americans of other races/ethnicities, African American men overall are almost 7 times more likely than white men to be diagnosed with HIV in their lifetimes. The disparity among women
is even greater: 1 in 48 African American women will be diagnosed with HIV in their lifetimes, compared with 1 in 227 Hispanic women and 1 in 880 white women. Reasons for this higher lifetime risk include higher prevalence within the community, which poses an increased risk of infection with each sexual encounter; lack of access to healthcare; poverty; and stigma.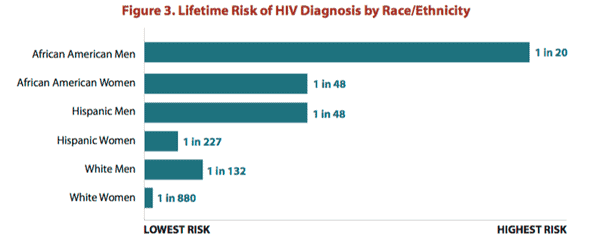 You can read the CDC's full report here.