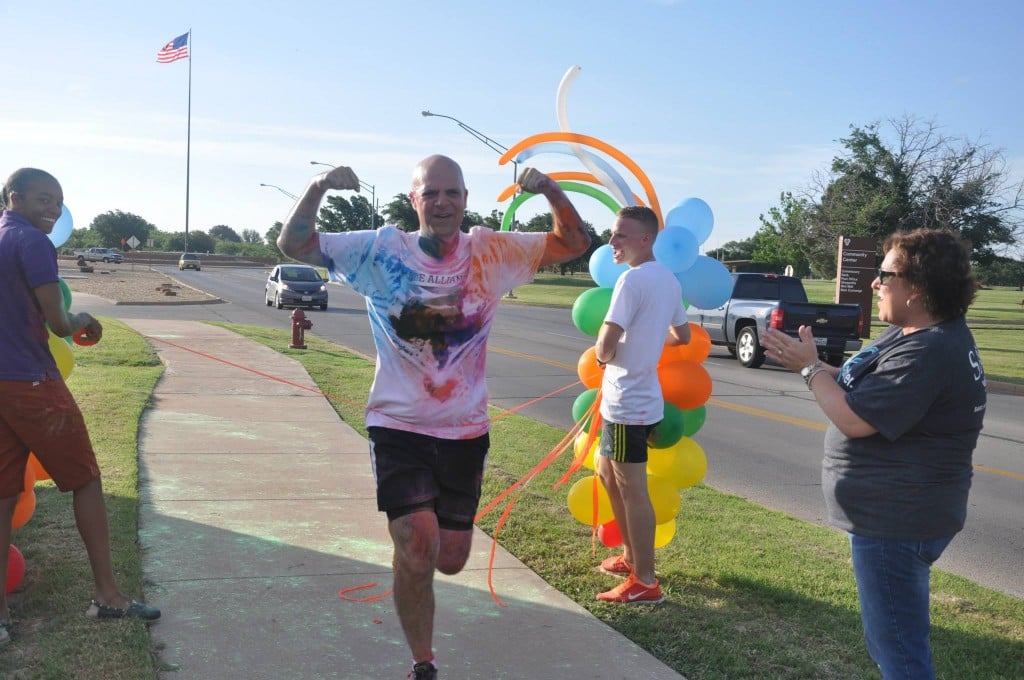 A decorated military officer and GOP congressional candidate has come under fire from Republican opponents for participating in "fun runs" sponsored by a group for LGBT service members at the Air Force base where he served as commander.
Retired Col. Michael Bob Starr (above) is one of eight people seeking the Republican nomination in Congressional District 19 in West Texas, where right-wing Rep. Randy Neugebauer will leave office at the end of the year. District 19 is among the most conservative in the nation, and the winner of the primary won't have a Democratic opponent.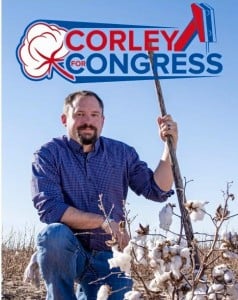 Over the weekend, with the help of the tea party schills at Breitbart Texas, oil field worker and second-tier District 19 candidate Jason Corley attacked Starr for participating in "fun runs" in 2014 and 2015 that were sponsored by the Pride Alliance at Dyess AFB in Abilene, Texas, where Starr led the 7th Bomb Wing. Corley said he raised the issue because he's concerned about the military being used for "social engineering."
Starr, who has three Bronze medals and is considered a favorite to advance to the runoff, responded by labeling those behind the attack as "cowards" and likening them to the terrorists he fought in Afghanistan during Operation Enduring Freedom. On Monday, Starr staged two press conferences to address the issue, saying although he opposes same-sex marriage, he would support any policy change that makes the military stronger, including the repeal of Don't Ask, Don't Tell.
From The Lubbock Avalanche-Journal:
Starr said he was invited to dozens of LGBT-related events while commanding the Air Force base, and does not regret attending the ones he did. He said the bond and  camaraderie  at the base was so close that not attending these types of events, as a commander, wasn't an option.
"(The fun run) emphasized pride in our service and pride in our base," he said.
He called the attacks on him cowardly, concluding the personal attacks translate into attacks on those who serve in the military.
"I am disgusted by an attempt to drag the men and women of Dyess Air Force Base through the mud for someone else's political advantage," he said.
Starr claims the gay-baiting attack is part of a coordinated, well-financed effort that has included fliers placed on windshields outside campaign events drawing attention to his participation in the fun runs. In addition to Corley, three other candidates are now ganging up on Starr, according to reports from the Avalanche-Journal and KCBD-TV.
"Our politicians and our military leaders should not condone nor should they participate in or promote activities directed at weakening or destroying the traditional family," said District 19 hopeful Donald May, who's also an Air Force veteran.
"I am in favor of traditional, Biblical marriage. As I've said repeatedly on the campaign trail, I would like the voters of the 19th District to look very closely at who they can trust to represent West Texas morals and values in Washington," said candidate DeRenda Warren.
"I am disappointed that any Reppublican candidate would have engaged in and supported activities that are so diametrically opposed to both Biblical and Republican principles," said candidate Greg Garrett. "What this country needs, and what the 19th Congressional District has an opportunity to provide, is a representative that stands firmly on his beliefs regardless of the winds of politically correct dogma."
Breitbart Texas editor Brandon Darby, who co-authored the hit piece about Starr, sparred with the colonel during one of the press conferences Monday.
"There's a difference between being accepting of people who are gay, who choose other lifestyles, and being an advocate for LGBT issues," Darby said, according to KCBD.
Among those rallying behind the colonel is retired Major Gen. Walter Huffman, the former dean of Texas Tech Law School, KCBD reported.
"No one attacks you if you're not doing very well. Michael Bob Starr as he has gone around this district has impressed people so much with his intelligence, his experience, his courage the fact that he is a decent, God-fearing, Christian person," Huffman said.
Abilene Mayor Norm Archibald said the attack against Dyess AFB is an attack on the whole city, according to The Abilene Reporter-News.
"When you attack one of our own, we can and will circle the wagons," Archibald said. "We are Dyess."
At the time of this posting, a KFYO radio poll has more than half of respondents saying they don't care about Starr's participation in the LGBT events, while another 12 percent say it actually makes them more likely to vote for him. Thirty-five percent say his participation makes them less likely to vote for him.
Early voting in the Texas primary begins today.
Watch KCBD's report below.